Nomentia In-house Bank is a solution for group treasury to improve centralization & control
Improve the group's cash and treasury management processes by centralizing payment processes, liquidity and risk management, and taking control over intercompany financing.
THE ESSENTIAL PAYMENT HUB
Centralize payment processes
Centralize outgoing and incoming payments
Automate payment processes
Execute manual payments when necessary
Comply with the corporate payment policies
Centrally control cash movements
Optimize cash flows & working capital
Automatically screen all outgoing payments against internal and

external standards to eliminate fraud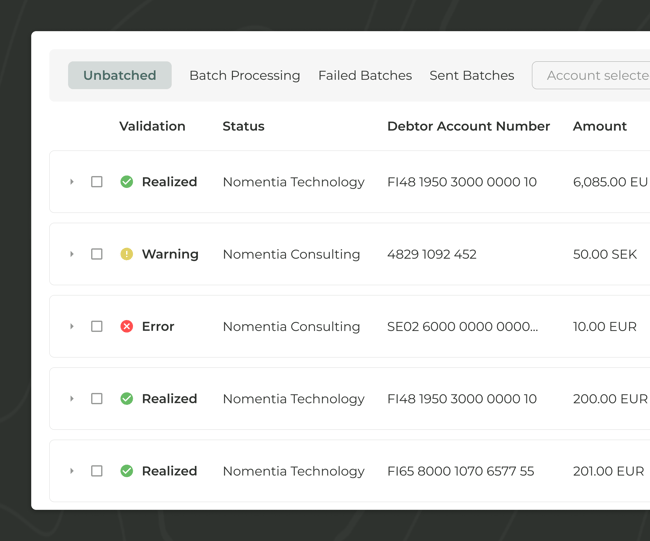 PAYMENTS & COLLECTIONS ON BEHALF OF THE SUBSIDIARIES
POBO & COBO
Set up internal accounts for subsidiaries
Execute payments on behalf of the subsidiary centrally
Collect payments on behalf of the subsidiary centrally
Receive and send payments from the group treasury's account to the subsidiary's internal accounts
Improve payment process centralization and operational efficiency
Reduce the number of bank accounts and decrease dependency on banks
Decrease banking fees
Optimize working capital management
Reconcile payments automatically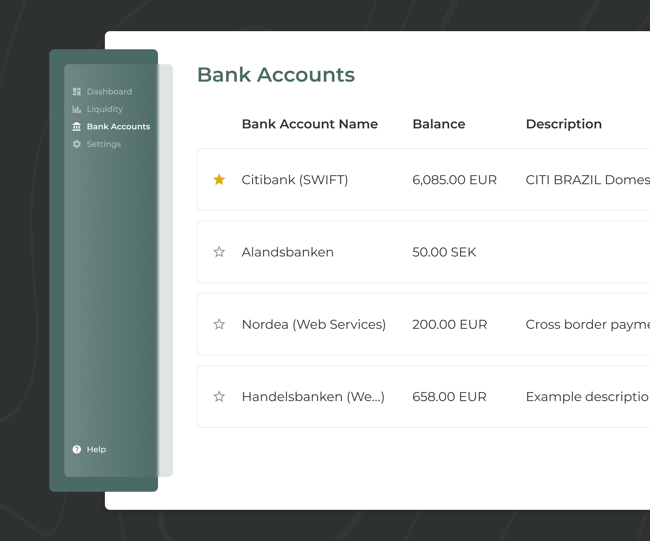 TAKE CONTROL OF YOUR CASH POSITIONS
Centralized liquidity management
Get complete visibility into the company's cash positions throughout the entire organization
Connect all data sources (ERP, TMS, financial systems, banks) to automatically fetch financial data
Central visibility into bank account balances of entities
Automatically collect data from all your subsidiaries
Monitor global cash positions across multiple banks, systems, and business units
Dynamic data views using a variety of functionalities such as aggregation, grouping, filtering, multiple time periods, and grid or graph views.
Customizable dashboards
Historic and current liquidity positions
Short & long-term liquidity forecasts
Compare actuals vs forecasts
Scenario analyses
Drill downs to the smallest details such as transaction levels
Set up cash pool structures
Monitor your FX hedging requirements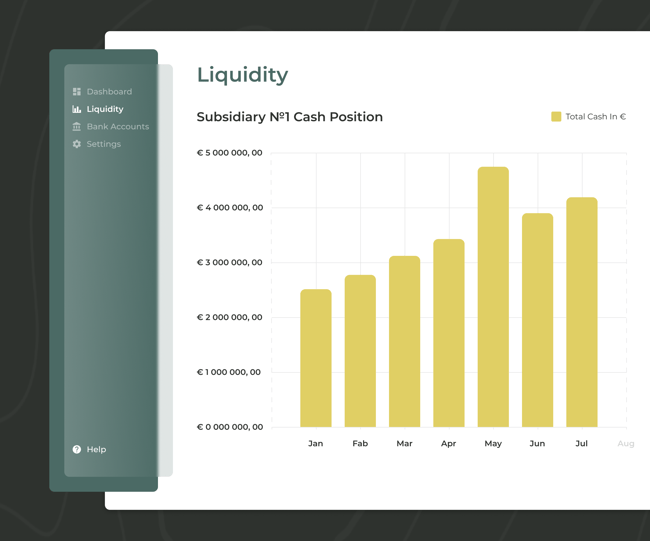 REDUCE LIQUIDITY & FX RISK
Financial risk management
Minimize liquidity risk with accurate and real-time data
Mitigate credit risk by forecasting future cash positions
Enhance quick and informed strategic decision-making based on reliable data
Minimize the need for short-term external funding
Leverage liquidity analyses to attract external funding
Ensure timeliness with defined deadlines, reminders, and status updates
Use multi-currency accounts and payments to reduce external hedging costs
Expand visibility into the group's foreign exchange exposure and the currency position
Internal FX hedging
Internal FX rate hedging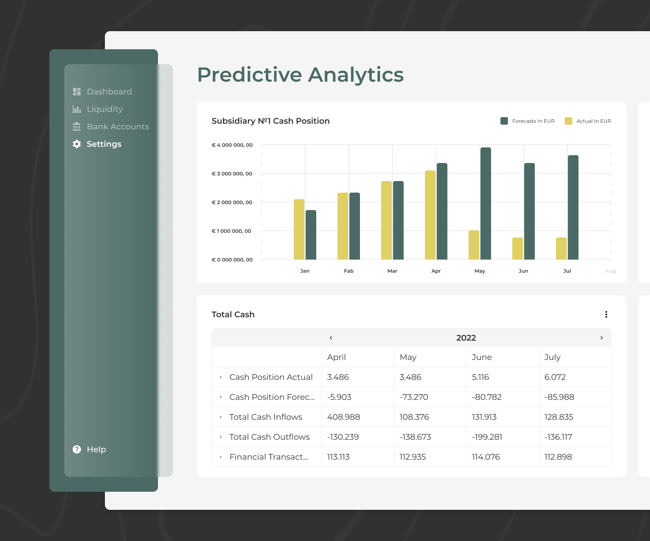 Manage loans centrally
Intercompany financing
Cover short-term financing needs internally

Eliminate unnecessary bank loans to avoid interest payments

Set your own interest rates for internal loans and calculate them automatically

Automatically net and invoice internal debts with clearing

Debt relationships between internal accounts are netted to gain control over intercompany settlements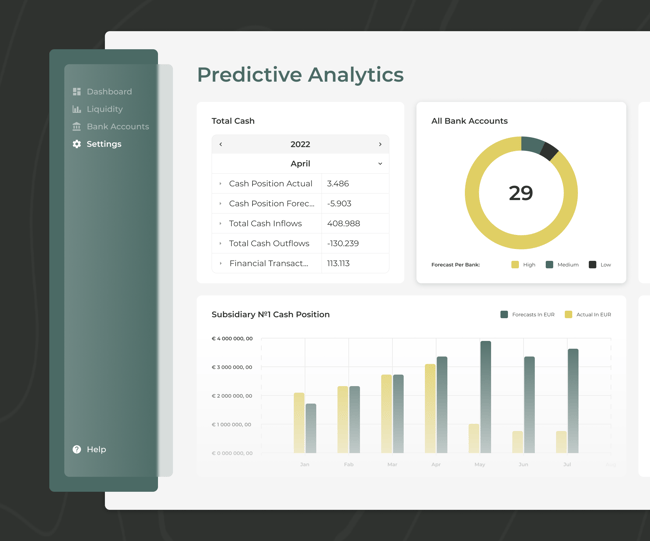 The Security of the Cloud
Security & compliance
Login via multi-factor authentication or SSO
Centralized user rights management to control employee's access based on their roles for SOX compliance
Full audit trail & archive functionality for compliance purposes
Nomentia In-house Bank is hosted on Microsoft Azure, it's a secure cloud-based solution.
Nomentia holds the following certifications: ISO/IEC 27001 Information Security Management System (ISMS), ISAE 3402 TYPE 2 and SWIFT Certified Application (Cash Management for Corporates and CSP compliance)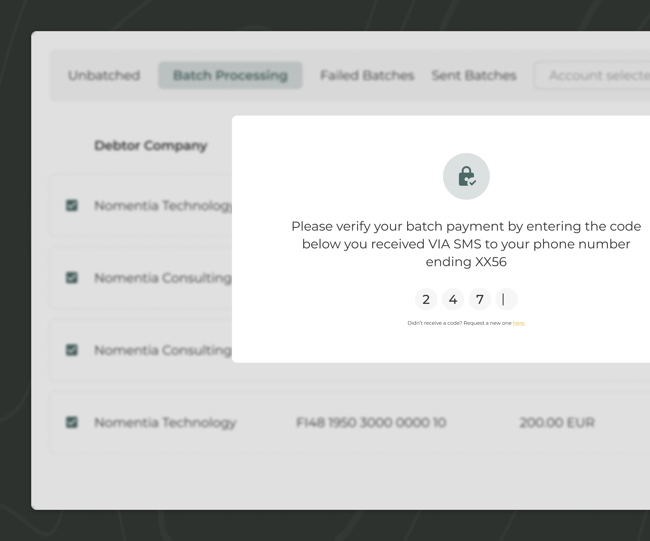 Complete centralization & control
Nomentia In-house Bank Features
Payment processing
Fetch payment files from different systems to automate payment processing using the payment hub solution. Execute manual payments when necessary, using country-specific payment templates.
Liquidity management
Get visibility into the group's cash positions throughout the entire organization with the liquidity management solution. Consolidate all cash flow data from different sources.
FX risk management
Gain control over the group's foreign exchange exposure and currency position. Utilize multi-currency accounts and payments to reduce external hedging costs and hedge currencies internally.
Internal accounts
Adopt internal accounts within the in-house bank to replace external bank accounts, reduce banking fees, and eliminate costs from currency exchange rates.
POBO
Control outgoing payments better by utilizing the payments-on-behalf solution. Move payments from the subsidiary's internal account to the group's account so that the group can execute the payment.
COBO
Control receivables better by collecting payments centrally and distributing the cash to the subsidiaries by paying them to their internal accounts.
Postings & attachments
Add postings and attachments such as invoices to manual payments to handle account statements faster and improve your audit trail.
Monitor & reconcile payments
Browse, search, and view individual payment files and payment batches to monitor and reconcile payments throughout their entire end-to-end lifecycle.
Companies using Nomentia In-house Bank
Transforming cash management centralization.


Other solutions you may find interesting
Would you like to see a demo?
There's only so much we can show on this page. Book a demo and ask all your questions!

We'd love to meet you!
Have you explored our solutions and you've found them interesting? We'd love to meet you and show you more!
Hyper modular
Nomentia has a hyper modular approach. Take only the solutions that you need and integrate them into your existing technology stack.
Connect with your banks easily
We help you to connect with over 10 000 banks globally through host-to-host, SWIFT, and local connections.