All treasury processes centrally managed
Define workflows to streamline treasury processes. Centralize the work of various organizational units and multiple systems with Nomentia Workflows.
Group-wide process transparency
Centralize with workflows
Define, document, and monitor processes

Centralize end-to-end processes for guarantees, intercompany loans, master data, derivatives, bank fees, and bank accounts

Consolidate the work of various organizational units and multiple systems

Monitor all ongoing processes and remain up to date about global statuses

Easily identify uncompleted and pending tasks

Ensure that the right people are part of the treasury processes at the right point in time

Communicate through one platform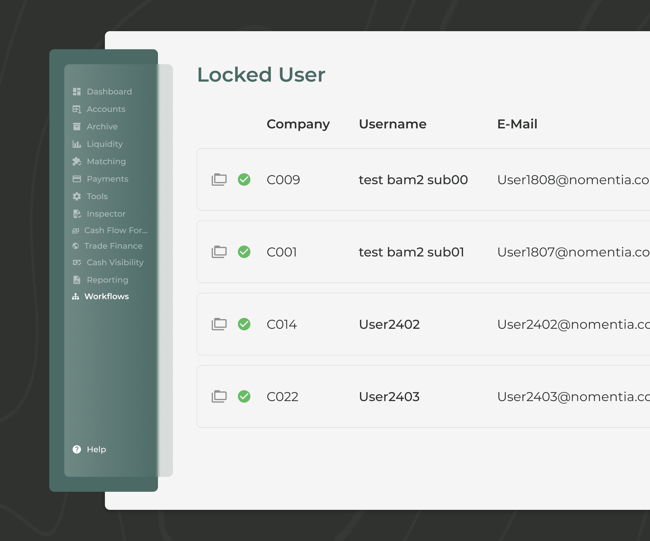 End-to-end automation
Automate processes
Automate end-to-end processes for guarantees, intercompany loans, master data, derivatives, bank fees, and bank accounts

Consolidate data and communication flows between local departments, shared service centers, and corporate treasury as well as ERP systems, TMS, and trading systems

Automated task allocation according to specific set process rules

Set up automatic role-specific reminders for tasks in processes to eliminate the need for queries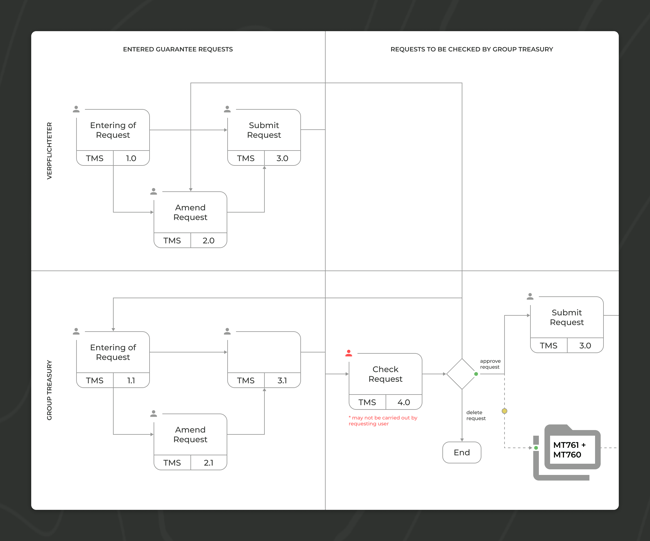 Globally connected
System connectivity
Connect to any bank using host-to-host, EBICS, SFTP, and SWIFT Alliance Lite2 connectivity
Connect to any ERP system
Connect to any treasury management system
Connect to FX trading platforms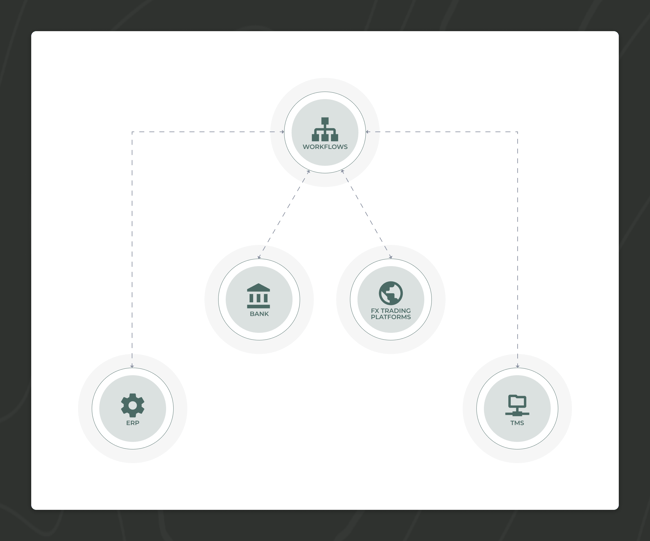 The security of the cloud
Security & compliance
Login via multi-factor authentication or SSO
Centralized user rights management to control employee's access based on their roles for SOX compliance
Nomentia holds the following certifications: ISO/IEC 27001 Information Security Management System (ISMS), ISAE 3402 TYPE 2 and SWIFT Certified Application (Cash Management for Corporates and CSP compliance)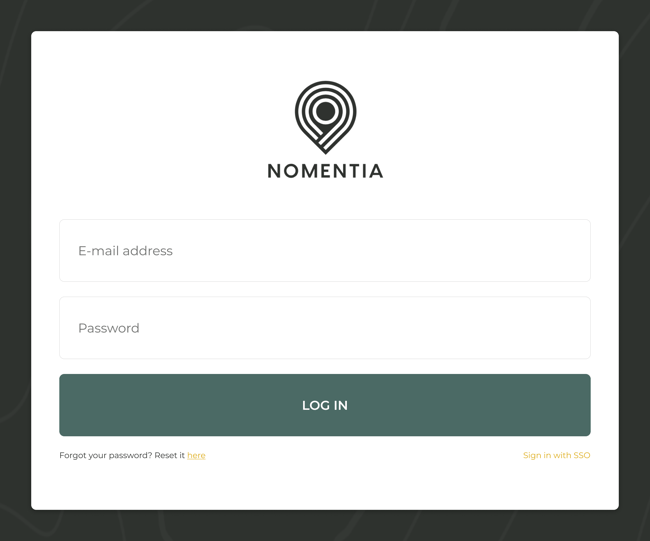 Transparent process management
Nomentia Workflows features
Fraud/error prevention
Set safety stops at critical parts in treasury processes.
User management
Set up user groups and define permissions and task divisions for every part of a process.
Analysis
Easy analysis of process workflows for continuous optimization.
Staff changes
Easily manage any staff changes by centrally reassigning tasks.
Audit trail
Audit trails provide transparency into all steps of the workflow process.
Optimization
Compare workflow processes and identify potential improvements.
Compliance
All process procedures are set in stone to ensure process clarity and compliance.
Best practices
Use our team of experts to set up best practice processes that are used by other customers.
Companies using Nomentia Workflows
Transforming treasury workflows on a global scale.




Using Nomentia Workflows for process automation
Treasury Workflows for Schott

"This project in cooperation with Nomentia and Deutsche Bank has successfully digitalized an important area of bank account management. We are also convinced that far more is possible. We aim to keep focussing on this and invite all others working in treasury to do as we have done. This is the only way that completely digitalized bank account management can become reality."
Dieter Worf
Head of Treasury, Schott AG
Other solutions you may find interesting
Would you like to see a demo?
There's only so much we can show on this page. Book a demo and ask all your questions!

We'd love to meet you!
Have you explored our solutions and you've found them interesting? We'd love to meet you and show you more!
Hyper modular
Nomentia has a hyper modular approach. Take only the solutions that you need and integrate them into your existing technology stack.
Connect with your banks easily
We help you to connect with over 10 000 banks globally through host-to-host, SWIFT, and local connections.