Centrally build reports and analyze treasury data with automatic data consolidation
Benefit from customized treasury reports for optimal analysis in Excel, Power BI or any other BI tool.
Group-wide treasury reporting
Centralized reporting
Automatically consolidate reliable group-wide data from different systems

Reports are updated at regular intervals to reflect the most recent changes

Leverage straightforward filters that are based on the data elements consolidated from different systems

Interactive dashboards and detailed analysis options

Self-service customizable reports and dashboards or tailor-made with expert help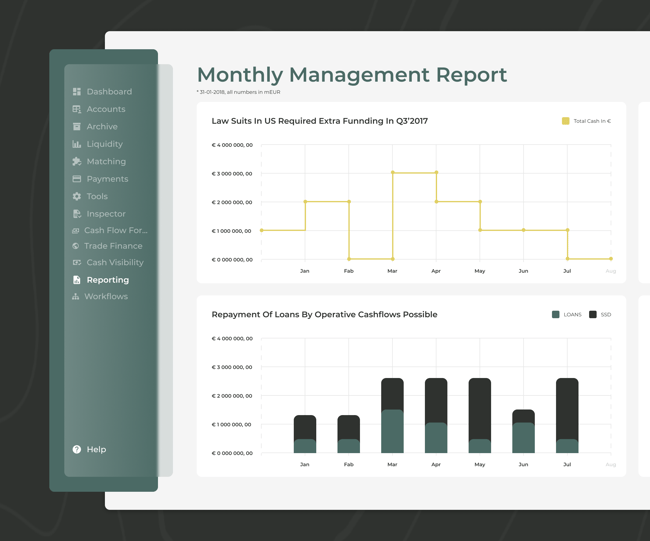 Automatic data reporting
System connectivity
Connect to TMS, ERP systems, and trading platforms
Connect to any bank using host-to-host, EBICS, and SWIFT Alliance Lite2 connectivity
Connect to market data providers

Automatic data checks to ensure data delivery and quality assurance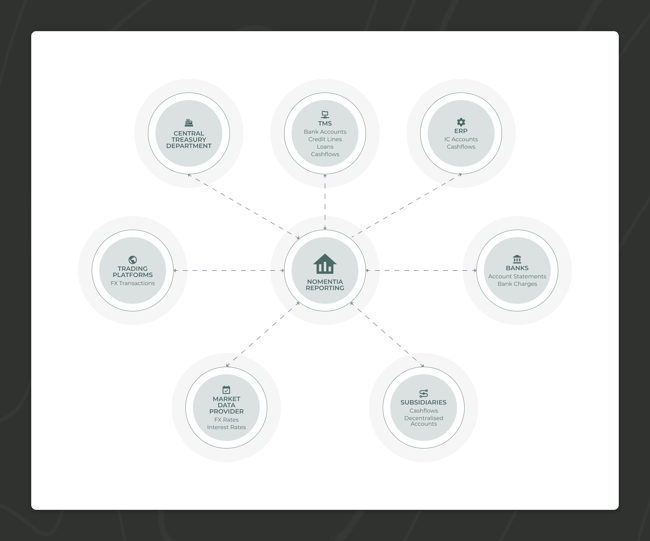 The power of Excel
Nomentia Data Cube
Use Excel to analyze data and prepare reports

Directly access master data, structures, and instruments from all source systems through Excel pivot objects

Drag and drop report building in Excel

Filter down data to any level with drop-down menus every time queries are entered

Flexible formatting of data and visualizations with all of Excel's common functionalities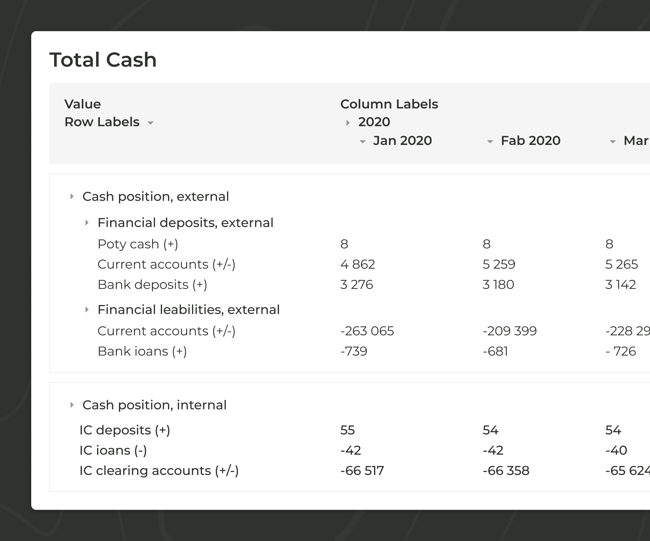 Interactive dashboards
Power BI
Use Power BI to analyze data and prepare reports

Define KPIs and measure how you perform against them

Self-service dashboards that allow full customization

Access reports from any mobile device

Easy filtering and drag and drop dashboard building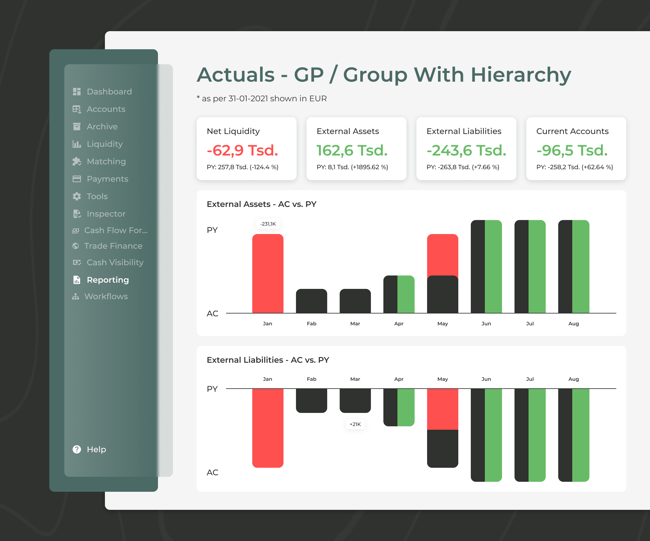 The security of the cloud
Security & compliance
Login via multi-factor authentication or SSO
Centralized user rights management to control employee's access based on their roles for SOX compliance
Nomentia holds the following certifications: ISO/IEC 27001 Information Security Management System (ISMS), ISAE 3402 TYPE 2 and SWIFT Certified Application (Cash Management for Corporates and CSP compliance)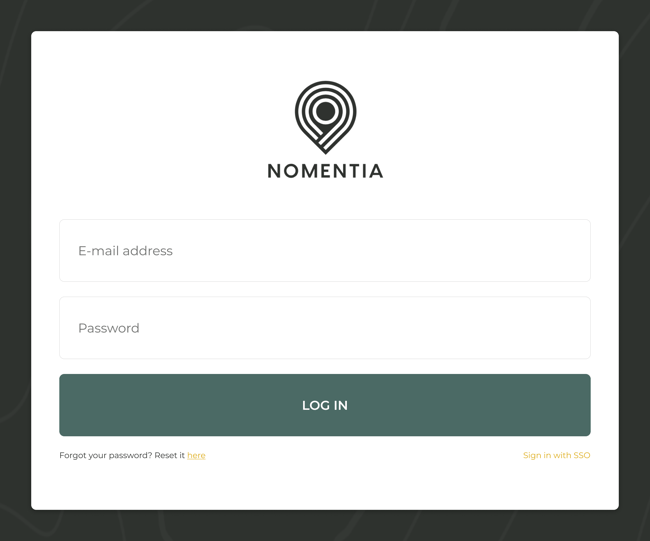 Extensive reporting and analyses
Nomentia Reporting features
Automation
Data is automatically consolidated from different source systems, and ready to use.
Pivot tables
Use pivot tables with straightforward filters to visualize all cash flow data.
Presentable formats
Present data in any format: online, Excel, PDF, and more.
Self-service and help
Fully self-serviced reports with expert help wherever needed.
Manual adjustments
Easily complement reports with manual data inputs if required.
Detailed filtering
Filter data down from high-level graphs and tables to a single transaction.
Additional filtering
Additional tailor-made data filters to fit any requirements.
Interactive dashboards
Change graph types or expand on data from within graphs or tables with interactive dashboards.
Companies using Nomentia Reporting
Transforming treasury reporting on a global scale.










Using Nomentia Reporting for quick analyses
Treasury reporting for Lufthansa

"As an information logistics tool, Nomentia has been a central element of our IT treasury landscape for more than 10 years. The simplicity, flexibility and speed of the system, combined with the industry expertise of Nomentia and its openness with regard to customer-driven developments, were the keys to our requirements being optimally implemented."
Thomas Linnert
Head of financial planning and payments, Lufthansa AG
Other solutions you may find interesting
Would you like to see a demo?
There's only so much we can show on this page. Book a demo and ask all your questions!

We'd love to meet you!
Have you explored our solutions and you've found them interesting? We'd love to meet you and show you more!
Hyper modular
Nomentia has a hyper modular approach. Take only the solutions that you need and integrate them into your existing technology stack.
Connect with your banks easily
We help you to connect with over 10 000 banks globally through host-to-host, SWIFT, and local connections.