Nomentia Reconciliation is a solution for matching and general ledger postings
Automatically match bank statements with transaction data or post transactions to the general ledger.
Full automation for faster end of the month closing
Automated matching
Automatically import open items from multiple source systems to fetch open items in any format
Define & implement multiple rule-based matching processes, such as balance matching, AR & AP matching, lockbox matching, e-commerce matching, and more
Connect with your banks to fetch all your bank materials, such as bank statements, with detailed information on transactions
Automatically identify and categorize bank transactions using a rule-based framework
Set your own rules for the matching process
Use adjustable tolerances to eliminate the need for penny difference reconciliation
Assisted matching supports exception handling
Automatically enrich data from various sources to increase the percentage of automatically matched invoices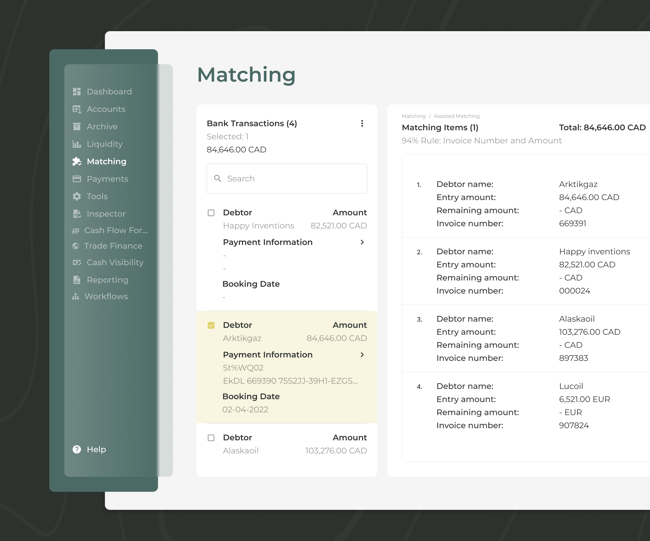 Use metrics and reports for development
Improve your matching processes
Understand the current level of unmatched transactions so that you can implement improvements based on the data
Implement reporting per entity
Implement reporting per matching process
Simple rule management: admin users can modify matching & posting rules themselves
Opportunity to continuously improve the matching processes and increase the automation ratio
Reduce the need for manually searching & entering missing data
Utilize simple process documentation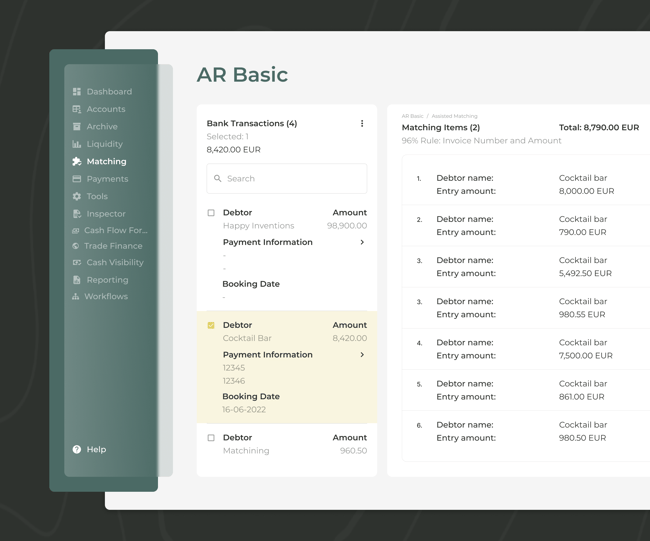 Aggregate transactions automatically
General Ledger Posting

Automatically process and post a wide range of transactions to multiple General Ledger systems
Automate dimension imports and create new dimension values in a few simple clicks
Easily manage and develop posting rules without the need for IT support
Exported items can be automatically saved in PDF format within Nomentia Archive

Minimize mismatch between general ledger cash vs. bank account balances
Posting to the general ledger:

Recording detailed accounting transactions in the general ledger
Involved aggregating financial transactions from where they are stored in specialized ledgers and transferring information into the general ledger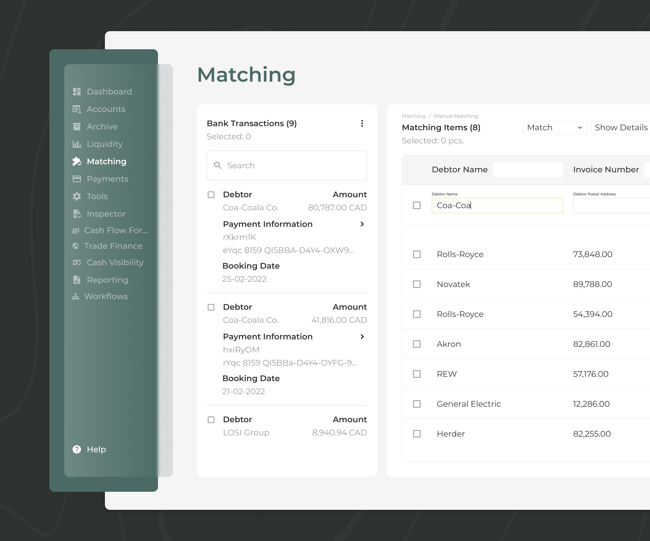 Compare financial records against bank statements automatically
Nomentia Reconciliation Features
Import transaction data
Get transaction data from all systems & banks and process using a single tool.
Multiple matching processes
Manage different types of matching processes based on your own, pre-defined, matching rules.
Advanced data enrichment
Automatically enrich transaction data from various sources to make the information available for matching.
Continuous improvement
Increase the automation of matching processes and create new automation rules without coding. Admin users can easily implement the changes and additions to the rules.
Automate cash accounting
Automate the posting process to minimize the mismatch between your general ledger cash and bank vs. external bank account balances.
Flexible reporting
Create entity and process-level reports to monitor performance.
Rule management
Using a few simple clicks, admin users can easily modify matching and posting rules without the need for coding. Changes will take effect immediately.
General ledger postings
Reconcile by matching bank account statement balances to your General Ledger cash account balances.
Companies using Nomentia Reconciliation
Transforming payments on a global scale.


Managing global payment processes
A payment hub for Valmet

"Both our IT department and our Financial Service centers have been pleased with Nomentia Payments. We are also impressed with the high level of information security."
Annika Westerholm
Director, Treasury Market Operations
Other solutions you may find interesting
Would you like to see a demo?
There's only so much we can show on this page. Book a demo and ask all your questions!

We'd love to meet you!
Have you explored our solutions and you've found them interesting? We'd love to meet you and show you more!
Hyper modular
Nomentia has a hyper modular approach. Take only the solutions that you need and integrate them into your existing technology stack.
Connect with your banks easily
We help you to connect with over 10 000 banks globally through host-to-host, SWIFT, and local connections.