Nomentia Payments
A global payment hub to centralize, control, and manage your end-to-end payments cycles to optimize cash and working capital while minimizing the risk of financial fraud.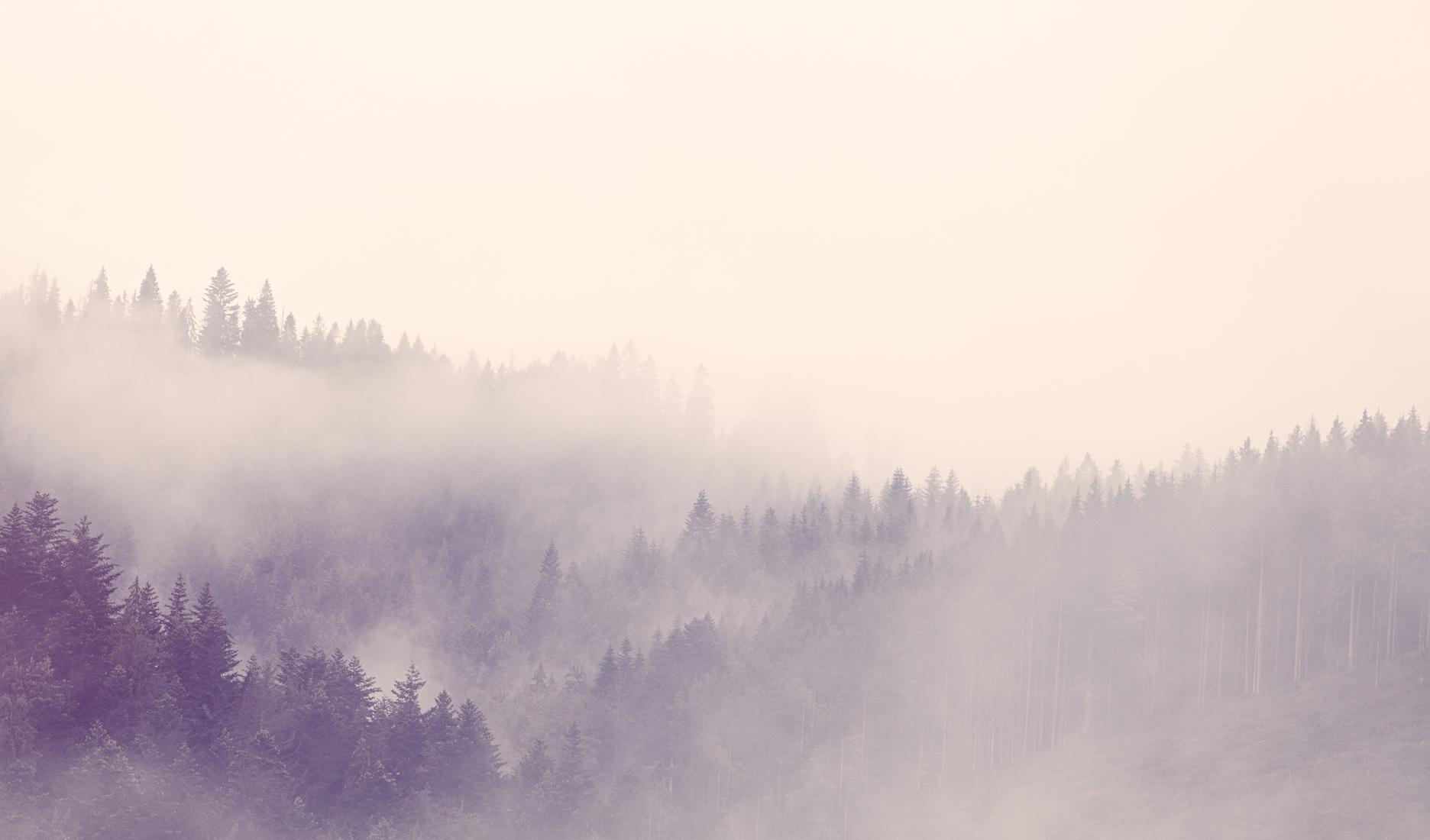 Nomentia Payments is a global payments hub
A complete payment hub for automating, managing, and centralizing local, cross-border, and global payments. Connect ERPs, financial systems, and banks to process outgoing payments for accounts payable, treasury, payroll, and manual payments and gain more visibility and control over where your cash is going.
The power of a payment factory
Payment workflows
Centralize the payment processes
Automate payment processes
Execute manual payments when necessary
Comply with the corporate payment policies
Control cash movements
Optimize cash & working capital
Automatically screen all outgoing payments against internal and external standards to eliminate fraud
Real-time payment balance information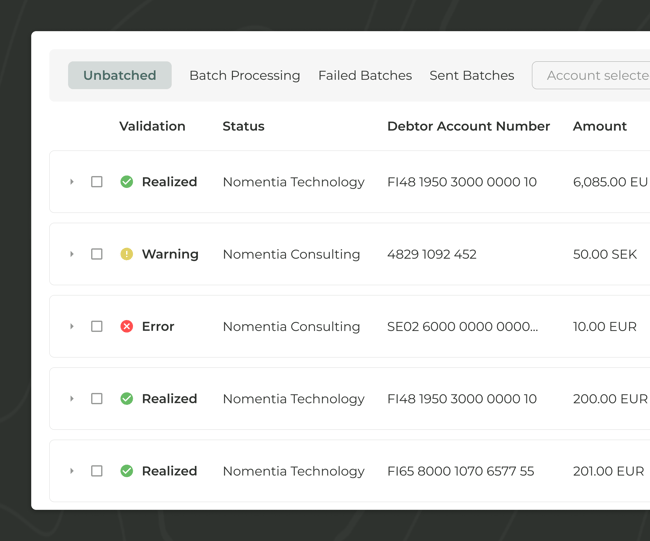 Connect with 10 800 banks
Bank connectivity
Connect with any banks across the globe
Connect with banks through host-to-host connectivity
Utilize local connectivity types such as EBICS
Bank connections are also available through SWIFT Alliance Lite2 for Business
Communicate with the bank in their preferred payment file format
Get confirmations from the bank in the file format that your systems can process
Monitoring and maintenance of the bank connections to ensure reliability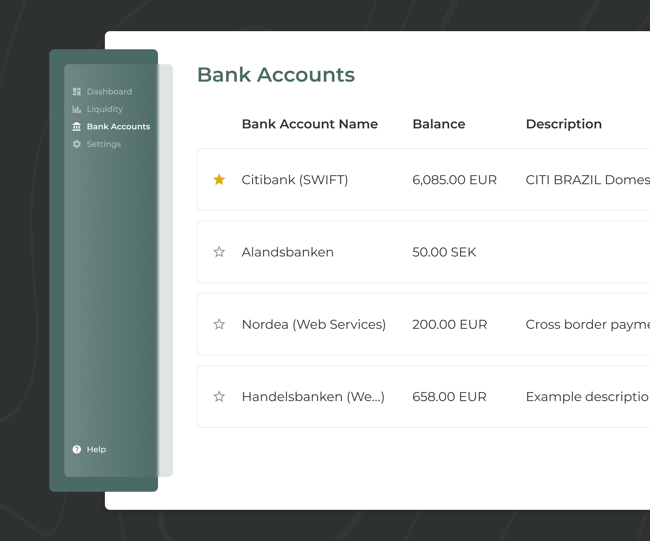 Building data integrations
Integrations & format conversions
Connect with any ERP system, for example, SAP, Oracle, Microsoft, Sage, NetSuite, and more, via API or SFTP.
Connect with any other financial systems
Integrations with treasury management systems
Establishing connections with any other systems where payments files are coming from
File format conversion to enable two-way communication between the internal systems and the banks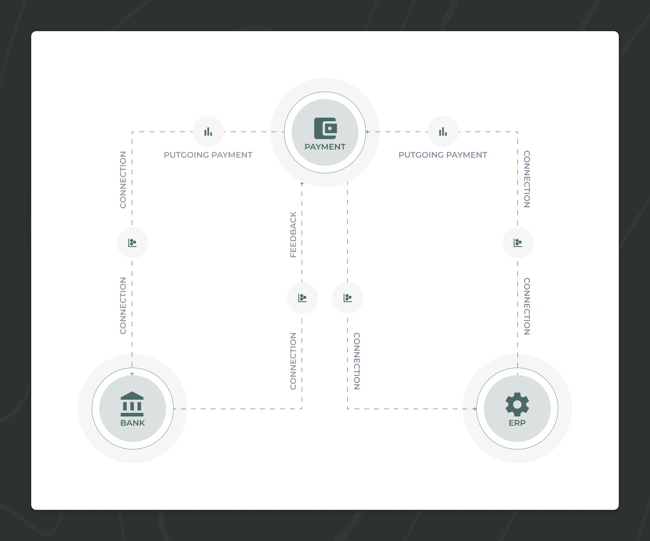 Control all outgoing payments
Payments fraud prevention
Rule-based payment process controls to catch anomalies and send them for review before sending the payment to the bank
Prevent accidental double payments by setting up automated rules to catch them
Set up multi-factor authentication (MFA) for approving payments batches to reduce the chances of fraud
Different payments batches can have different rules: it's possible to process payments as straight-through processing or require up to six people's approvals
Sanction screening to automatically catch payments to sanctioned beneficiaries before they are processed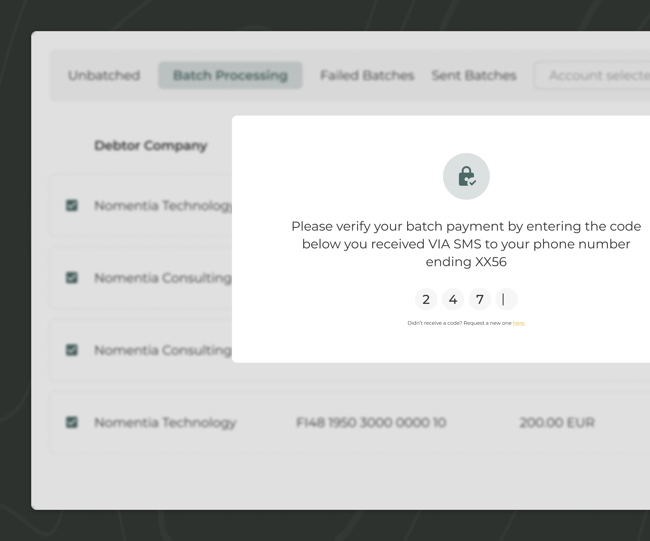 The Security of the Cloud
Security & compliance
Login via multi-factor authentication or SSO
Centralized user rights management to control employee's access based on their roles for SOX compliance
Full audit trail & archive functionality for compliance purposes
Nomentia Payments is hosted on Microsoft Azure, it's a secure cloud-based solution.
Nomentia holds the following certifications: ISO/IEC 27001 Information Security Management System (ISMS), ISAE 3402 TYPE 2 and SWIFT Certified Application (Cash Management for Corporates and CSP compliance)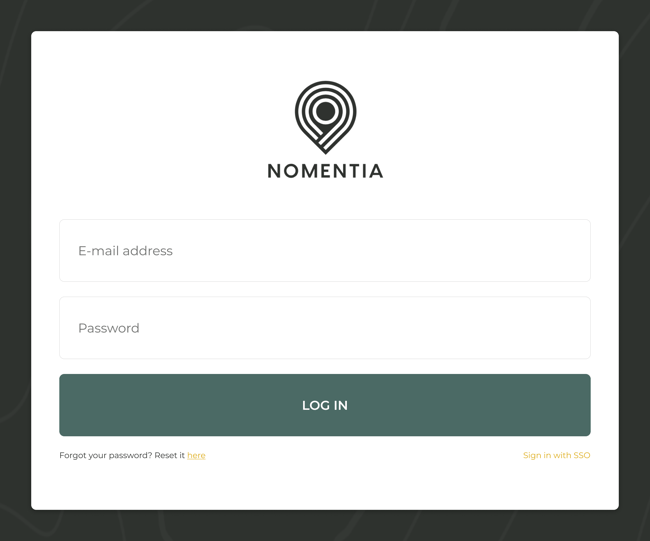 A global payment hub
Nomentia Payments Features
Import all payment files
Automatically import your payment files to send them to the bank using secure integration between Nomentia Payments and ERP systems and any other source systems.
Automated processing
Optimize the overall control and efficiency of your global payments processes. The payment hub collates payment files from your various systems, ERPs and entities, prior to bank transmission.
Manual payments
Create and send manual payments and utilize our pre-built country-specific manual payment templates or create your own templates for easier and faster processing.
Approvals
Establish different batch approval processes according to your payments policies, from fully automated process to multi-approvals up to six people.
Postings & attachments
Add postings and attachments such as invoices to manual payments to handle account statements faster and improve your audit trail.
Monitor & reconcile payments
Browse, search, and view individual payment files and payment batches to monitor and reconcile payments throughout their entire end-to-end lifecycle.
Sending & feedback
Send payment batches to banks in the correct bank-specific format and receive automated bank remit feedback.
Audit trail
For security and compliance, you can review payment history logs and audit trails for all your previously processed payments.
Companies using Nomentia Payments
Transforming payments on a global scale.






Managing global payment processes
A payment hub for Valmet

"Both our IT department and our Financial Service centers have been pleased with Nomentia Payments. We are also impressed with the high level of information security."
Annika Westerholm
Director, Treasury Market Operations
Other solutions you may find interesting
Would you like to see a demo?
There's only so much we can show on this page. Book a demo and ask all your questions!

We'd love to meet you!
Have you explored our solutions and you've found them interesting? We'd love to meet you and show you more!
Hyper modular
Nomentia has a hyper modular approach. Take only the solutions that you need and integrate them into your existing technology stack.
Connect with your banks easily
We help you to connect with over 10 000 banks globally through host-to-host, SWIFT, and local connections.