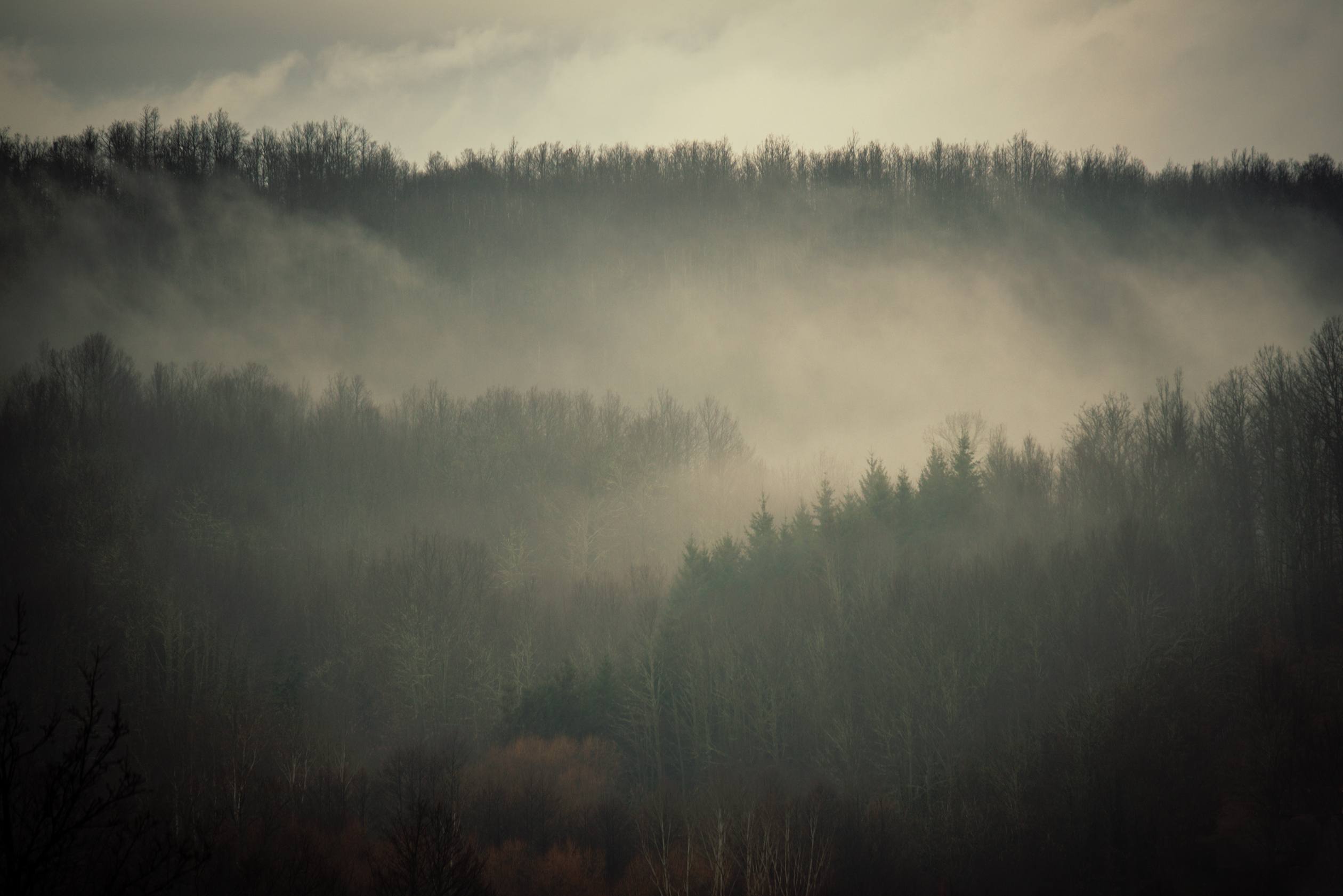 One platform for all your cash flow forecasting data
Automatically develop cash flow forecasts based on consolidated global cash flow data from all your systems including ERP systems, banks, treasury management systems, balance sheets, and P&Ls.
A single source of truth
Centralized cash flow forecasting
Manage all global cash flow forecast data in one platform

Automatically collect cash flow data from all entities, banks, and ERP systems

Run automated projections based on historical data

Manual data input to adjust your forecasts

Run variance analyses to compare actuals with forecasts

Forecast cash flows at any level, time horizon, and interval

Analyze working capital projections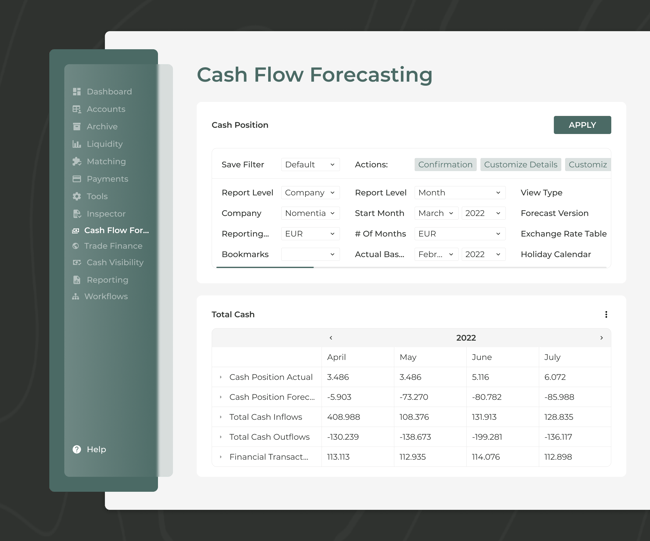 Automate manual processes
Cash flow forecasting automation
Run cash flow forecasts within minutes

Leverage algorithms to run different models like Arima, Neural Networks, XGBoost, and more

Automatically simulate future cash positions based on historical data

Automatically consolidate data at various levels like regions, divisions, sub-groups, and group-level

Automatically retrieve data from different sources

Create automated workflows based on best practices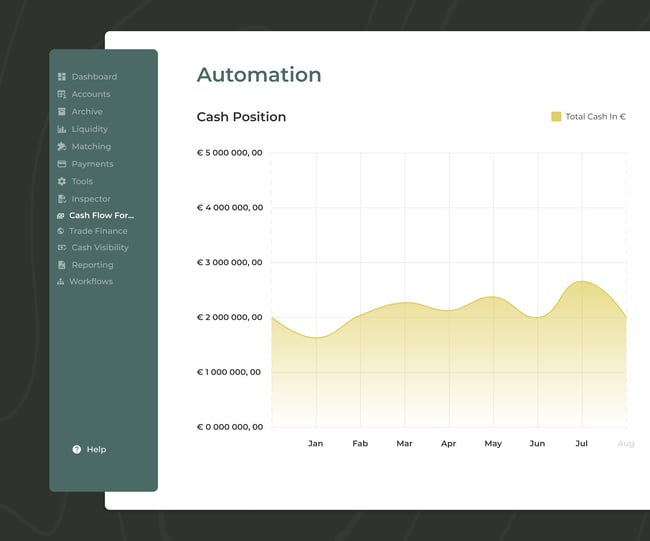 Plan scenarios based on historical data
Predictive analytics
Develop cash flow forecasts based on historical data trends

Run different forecasting models to analyze all possible scenarios

Manually adjust forecast data

Include seasonality trends and external factors like industry-specific indicators

Capture cash flows in transaction currency as the basis for your FX exposure

Include data from balance sheets, P&Ls, and intercompany reconciliation in forecasts

Short-, medium- and long-term forecasting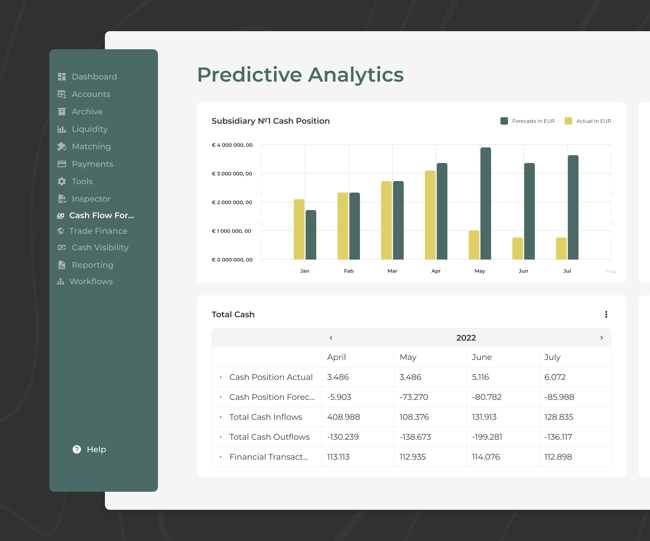 Globally connected
System connectivity
Connect to any bank using host-to-host, EBICS, SFTP, and SWIFT Alliance Lite2 connectivity
Connect to any ERP system
Connect to any treasury management system
Integrated SAP R3 and S4HANA connectivity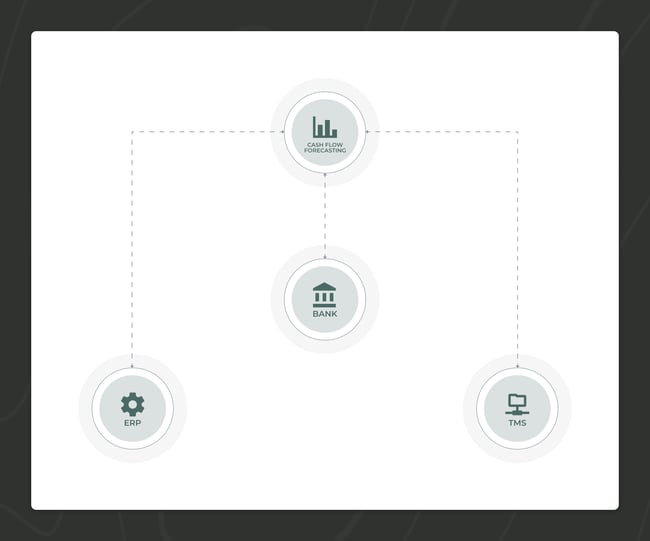 Reporting & Analysis
Cash flow forecast reports
Easily create standardized and customized reports

Leverage self-service BI, dashboards, mobile accessibility, tables, and graphs

Drill down to yearly, monthly, weekly, and daily levels or to transactional level

Show deviations between actuals and forecasted data

Select any time horizon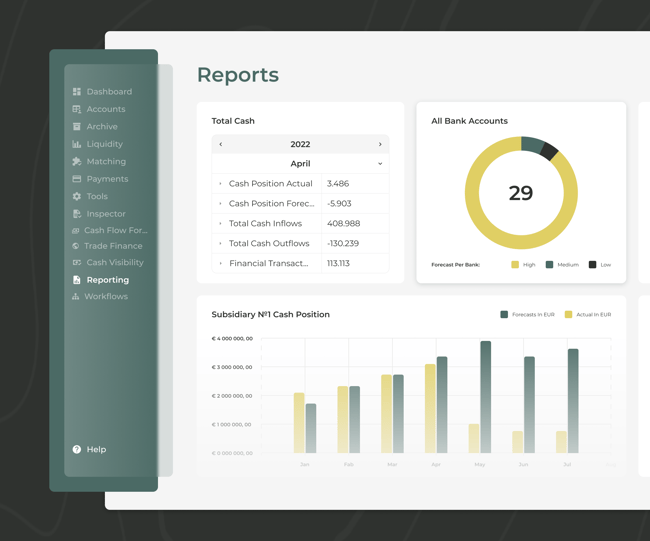 The security of the cloud
Security & compliance
Login via multi-factor authentication or SSO
Centralized user rights management to control employee's access based on their roles for SOX compliance
Nomentia Cash Flow Forecasting is hosted on Microsoft Azure, a secure cloud-based solution
Nomentia holds the following certifications: ISO/IEC 27001 Information Security Management System (ISMS), ISAE 3402 TYPE 2, and SWIFT Certified Application (Cash Management for Corporates and CSP compliance)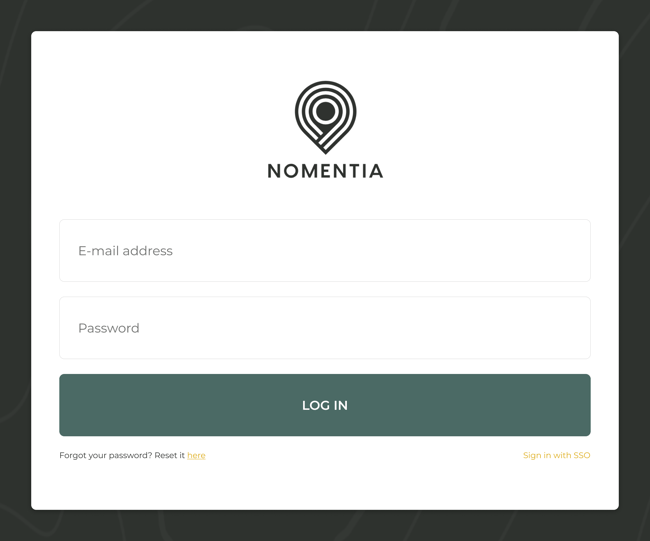 Global Cash Flow Forecasting
Nomentia Cash Flow Forecasting features
Predictive analytics
Run automated cash flow projection simulations based on historical data trends.
Seasonality and industry trends
Automatically include industry-specific indicators and indices as well as seasonality trends in your cash flow forecasts.
Connectivity
Connect to any bank, ERP system, and treasury management system.
Manual adjustments
Adjust automated cash flow forecasts with manual inputs from within both graphs and tables.
Data drill-downs
Report on cash forecasts at any level. Analyze yearly, monthly, weekly, and daily details. Select any time horizon. View transaction-level information.
Customized reports
Build user-friendly customized reports and dashboards. Leverage existing standardized reports.
Elaborate forecasting
Include balance sheet, P&L, and intercompany reconciliation data in cash flow forecasts.
Prediction models
Use different prediction models like TBATS, Support Vector Machine, Linear Regression, Prophet, Bayesian Structural Time Series, Feedforward Neural Networks, XGBoost, and Robust Linear Regression.
FX risk management
Consolidate multiple currencies in multi-currency views to monitor FX exposure in cash flow forecasts.
Variance analysis
Analyze how cash flow forecasts perform against budgeted. Easily monitor any deviations.
Companies using Nomentia Cash Flow Forecasting
Transforming cash flow forecasting on a global scale.




Case study
Cash flow forecasting for Lufthansa AG

"As an information logistics tool, Nomentia has been a central element of our IT treasury landscape for more than 10 years. The simplicity, flexibility and speed of the system, combined with the industry expertise of Nomentia and its openness with regard to customer-driven developments, were the keys to our requirements being optimally implemented."
Thomas Linnert
Head of financial planning and payments, Lufthansa AG
Other solutions you may find interesting
Would you like to see a demo?
There's only so much we can show on this page. Book a demo and ask all your questions!

We'd love to meet you!
Have you explored our solutions and you've found them interesting? We'd love to meet you and show you more!
Hyper modular
Nomentia has a hyper modular approach. Take only the solutions that you need and integrate them into your existing technology stack.
Connect with your banks easily
We help you to connect with over 10 000 banks globally through host-to-host, SWIFT, and local connections.