Nomentia Bank Fee Analysis
Automatically get a clear overview of all your bank fees to identify deviations in fees paid vs. billed, and gain a better position to negotiate new deals with your banks. Stop overpaying for your bank fees.


Automatically control bank fees to avoid overcharges and ensure you don't pay the higher end of the market rates.
GROUP-WIDE BANK FEE ANALYSIS
Automate bank fee controlling
Upload your bank fee schedules as the base for analysis of all your bank charges
User smart workflows to detect any new accounts, new fees, or any deviations to your agreed fees
Import bank charges in formats like CAMT.086, TWIST BSB, EDI.822 and CSV
Acquire data about fee types, volumes, and charges on all your bank fees to have a better negotiation position with your banks for any upcoming RFP
All the work is done in Nomentia - no separate system needed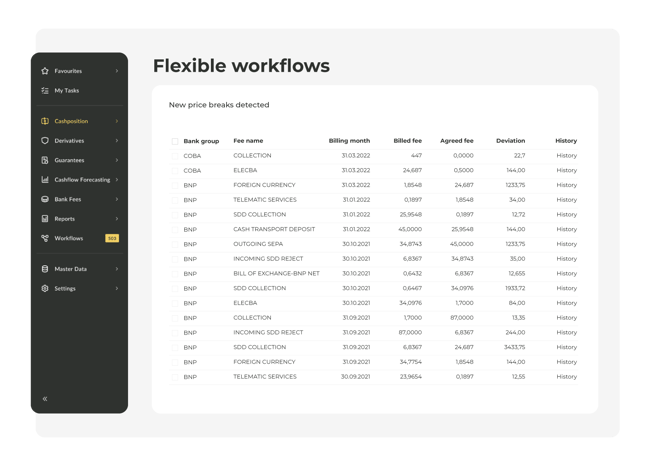 ANALYZE ALL YOUR BANK FEES
Create insightful reports
Get an overview of all your bank accounts and their related fees globally, by country, company, banking group, fee group, or more
Comparison report to make products and prices comparable between banks
The deviation report automatically shows whether you have been overcharged or undercharged
The savings reports will show you if uniform prices are applied within the same banking group and the same country for the same service
The exception report shows you any expensive fees like manual or urgent pays and allows you to detect internal process or static-data issues.
The Executive Summary report wraps everything up for your management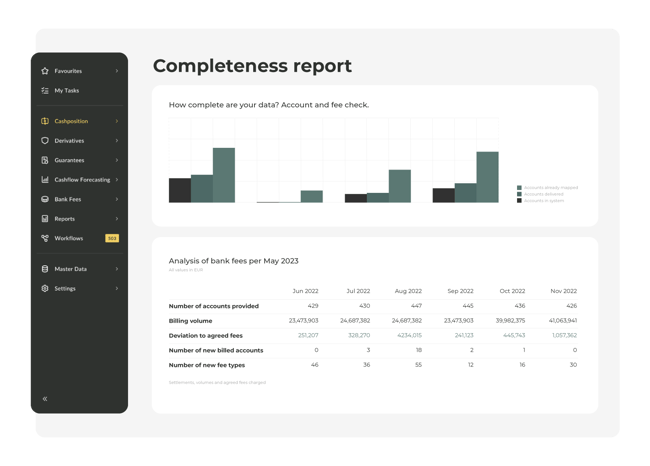 Other solutions you may find interesting
Would you like
to see a demo?
There's only so much we can show on this page. Book a demo and ask all your questions!

We'd love to meet you!
Have you explored our solutions and you've found them interesting? We'd love to meet you and show you more!
Hyper modular
Nomentia has a hyper modular approach. Take only the solutions that you need and integrate them into your existing technology stack.
Connect with your banks easily
We help you to connect with over 10 000 banks globally through host-to-host, SWIFT, and local connections.