Solutions
Bank account management
Retrieve, view, analyze and monitor cash flows, account statements, and payments centrally by connecting all your bank accounts to Nomentia Bank Account Management. Leverage eBam functionalities wherever possible.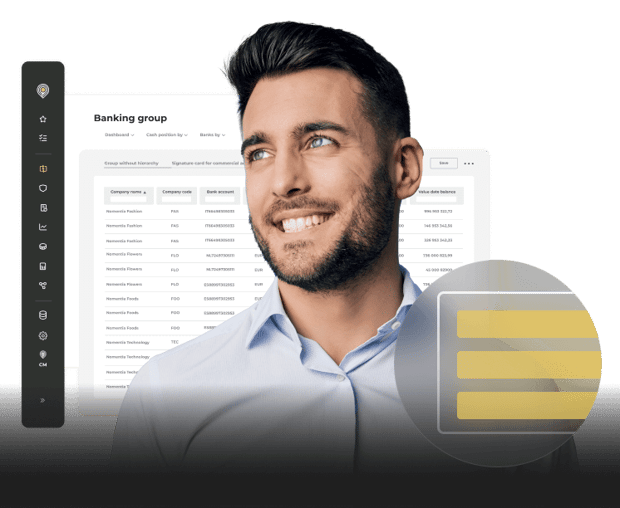 Effectively oversee & control bank accounts
Optimize cash flow management by gaining visibility into bank account balances. Enhance financial controls and improve decision-making on group or entity level.
Central account management
Connecting all bank accounts to gain central visibility and control.
Enhance security
Optimal user management with controlled user rights and full audit trail transparency supports compliance.
Intuitive reporting
Leverage comprehensive analysis options and filter by any relevant parameter based on group-wide account data.
Boost cash visibility
View opening and closing balances, intraday transactions, currency payments, and use balancing techniques for optimal cash management.
Manage all your bank accounts in one place
Centralized account management
Centralize all your group's bank accounts for better control and start optimizing your organization's cash flows.
Connect your group's global bank accounts to improve visibility and control
Automate processes such as data transfers, interfaces, and postings to minimize manual work and errors
Optimal user management with controlled user rights and full audit trail transparency
Enhance scalability with an unlimited number of bank accounts
User-friendly reporting, filtering, and visualization of all account data
Connect to any ERP, Treasury Management System, or other financial system
Schedule the retrieval of account statements, specifications, and reference materials
Connect to any bank account
Connect all your bank accounts to better manage your organization's liquidity while boosting financial control and compliance.
Leverage a distribution point for bank statements
Automatically receive information from all connected bank accounts
Connect to banks via host-to-host, SWIFT, or local connectivity options
Bank connections are monitored and maintained to ensure uninterrupted communication
Fully managed data mapping and file format conversions to ensure uninterrupted data sharing
Smooth transaction management
Streamline transaction management through automation to have all essential data quickly available to your team.
Retrieve all account transactions and FX rates through one interface
Add or modify transaction-specific reference numbers and divide reference transactions into separate files
Calculate account-specific value-date balances with transaction data
Automatically transfer account statements and reference transactions to general ledgers, sub-ledgers, desired treasury systems, or other systems
Set up posting rules to automatically pre-process and post statement transactions
Manually retrieve data or adjust voucher numbering and FX rates to tackle deviations
Optimize balance management
Better manage bank account balances across all your bank accounts globally.
View opening and closing balances, net flows, limits, and available funds at any time
Retrieve intraday transactions, currency payments, and reference materials
Calculate daily value date balances
Utilize the global target balancing functionality
Possibility for zero account balance (ZBA) to optimize company liquidity by transferring funds when needed from a central account
Report on positive or negative interesting bearing accounts or account hierarchies, calculated based on value date balances
Electronic bank account management with selected banks
Manage the entire process of opening, maintaining, using, and closing bank accounts electronically with the banks that support eBAM.
Manage all eBAM-qualified accounts from Nomentia
Set up automated workflows and rules to manage the accounts
Open and close bank accounts electronically
Maintain bank accounts from Nomentia
Update account and transactional signatory rights whenever necessary
Easily generate reports for regulatory purposes
Security & compliance
Security is always at the core of our solution.
Login is available via multi-factor authentication or SSO
Centralized user rights management allows you to gain better control over employee's access based on their roles for SOX compliance
Full audit trail & archive functionality to ensure compliance
Nomentia Bank Account Management is hosted on Microsoft Azure to ensure highest possible security
Nomentia holds the following certifications:
ISO/IEC 27001 Information Security Management System (ISMS),
ISAE 3402 TYPE 2 and SWIFT Certified Application (Cash Management for Corporates and CSP compliance)
Security at Nomentia
Trusted by 1400+ customers worldwide
Dieter Worf
Head of Treasury, Schott AG
"This project in cooperation with Nomentia and Deutsche Bank has successfully digitalized an important area of bank account management. We are also convinced that far more is possible. We aim to keep focussing on this and invite all others working in treasury to do as we have done. This is the only way that completely digitalized bank account management can become reality."
Dieter Worf
Head of Treasury, Schott AG
Read customer story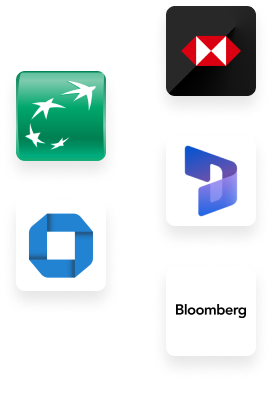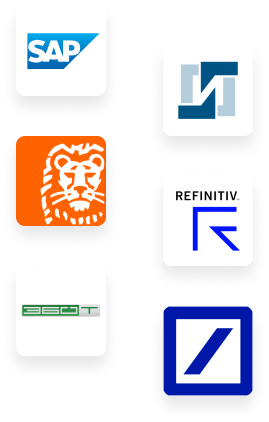 Integrate with the tools
you rely on every day
Nomentia integrates with the banks, systems and tools you use everyday.
Find out more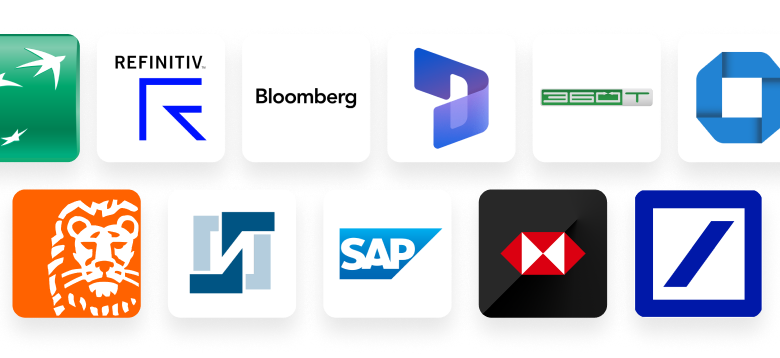 Want to know more about our bank
account management module?
Let's discuss the future of your treasury processes together.