Robust bank account management in one tool
Retrieve, view, analyze and monitor cash flows, account statements, and payments centrally by connecting all your bank accounts to Nomentia Bank Account Management.
One platform for all bank accounts
Centralized account management
Connect your group's global bank accounts to improve visibility and control
Automate processes such as data transfers, interfaces, and postings to minimize manual work and errors
Optimal user management with controlled user rights and full audit trail transparency
Enhance scalability with an unlimited number of bank accounts
User-friendly reporting, filtering, and visualization of all account data
Connect to any ERP, Treasury Management System, or other financial systems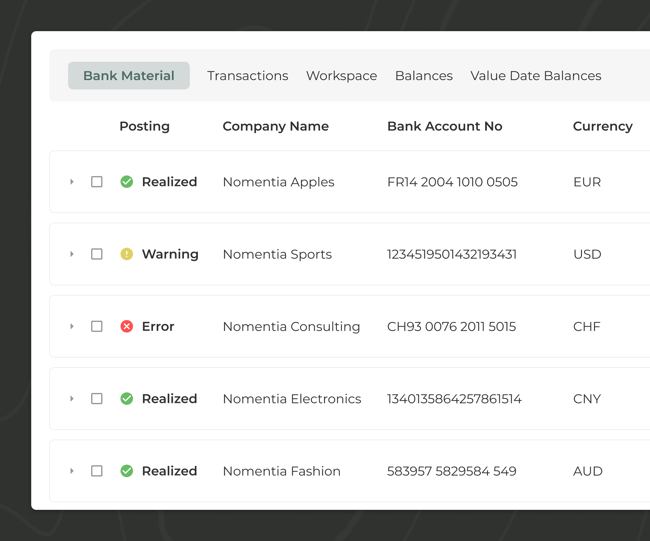 Connect to any bank across the globe
Bank connectivity
Connect to banks through host-to-host connectivity
Utilize local connectivity types such as EBICS
Connect to banks through SWIFT Alliance Lite2
Monitoring and maintenance of bank connections to ensure continuity
Managed

data mapping and file format conversions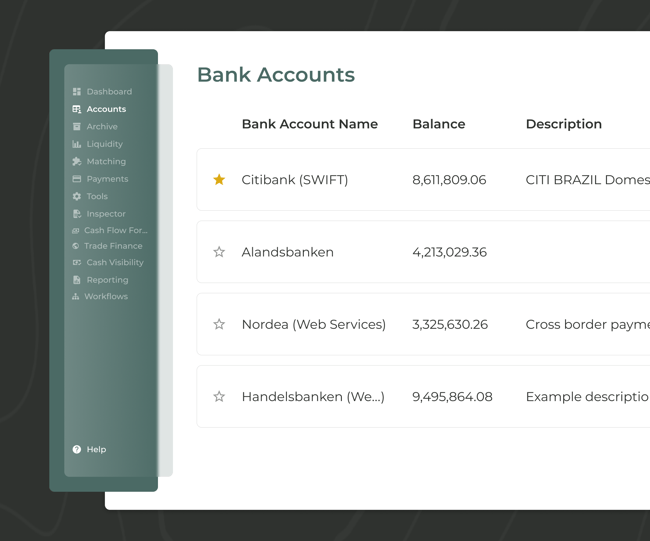 All transactions in one place
Transaction management
Retrieve all account transactions and FX rates through one interface
Add or modify transaction-specific reference numbers and divide reference transactions into separate files
Calculate account-specific value-date balances with transaction data
Transfer account statements and reference transactions to general ledgers, sub-ledgers, desired treasury systems, or other systems.
Set up posting rules to automatically pre-process and post statement transactions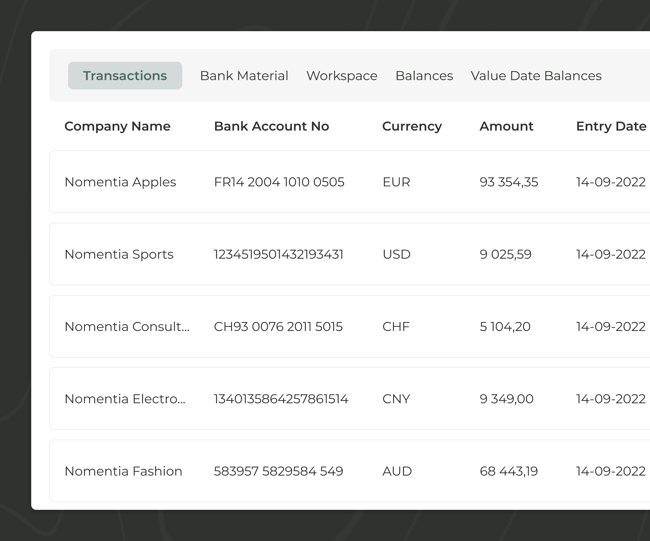 Instant insight into all account balances
Balance management
View opening and closing balances, net flows, limits, and available funds at any desired time
Retrieve intraday transactions, currency payments, and reference materials
Calculate daily value date balances
Global target balancing
Possibility for zero account balance (ZBA) to optimize company liquidity by transferring funds when needed from a central account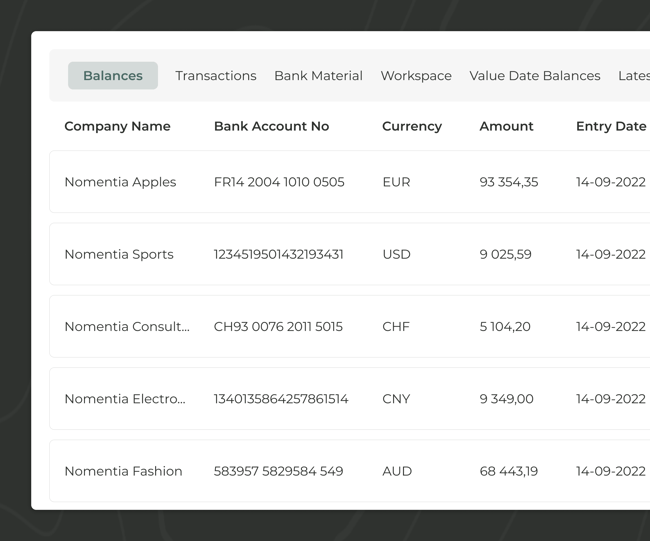 Benefit from eBAM functionalities
Electronic bank account management
Manage all eBAM-qualified accounts from a single platform
Automated workflows and rules
Open and close bank accounts
Maintain bank accounts
Update account and transactional signatory rights
Generate reports for regulatory purposes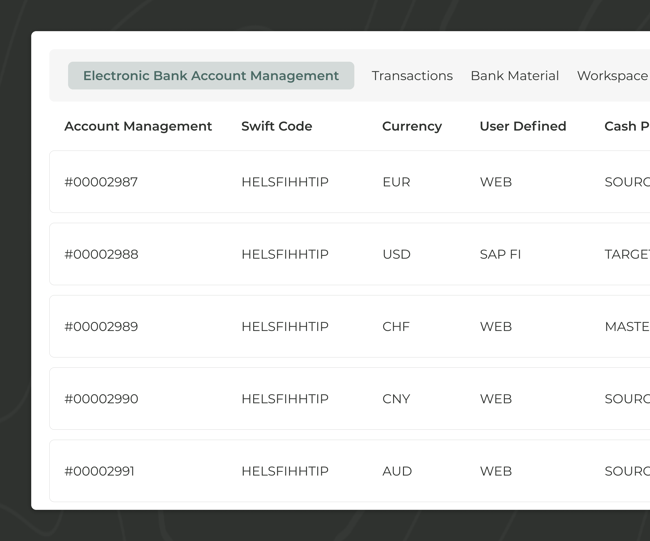 The security of the cloud
Security & compliance
Login via multi-factor authentication or SSO
Centralized user rights management to control employee's access based on their roles for SOX compliance
Nomentia Bank Account Management is hosted on Microsoft Azure, a secure cloud-based solution
Nomentia holds the following certifications: ISO/IEC 27001 Information Security Management System (ISMS), ISAE 3402 TYPE 2, and SWIFT Certified Application (Cash Management for Corporates and CSP compliance)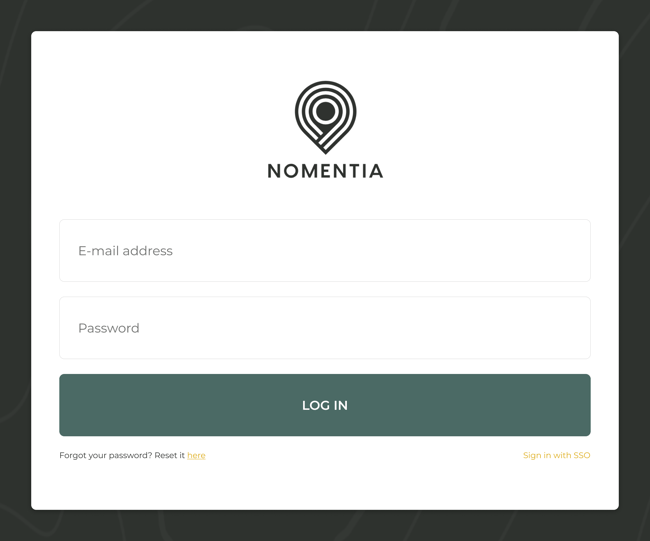 Global bank account management
Nomentia Bank Account Management features
Intraday transactions
Retrieve intraday transactions, incoming currency payments, and balances.
Account statements
Schedule the retrieval of account statements, specifications, and reference materials.
Value date balances
Calculate daily value date balances and zero balance accounts.
Manage FX rates
Retrieve and adjust FX rates. Efficiently handle any deviations through one interface.
Interest calculations
Report on positive or negative interesting bearing accounts or account hierarchies, calculated based on value date balances.
Export filtered data
Search, group and filter retrieved account transactions and balances and transfer the material to Excel.
Target balancing
Concentrate end-of-day balances to target accounts on a global level.
Manual adjustments
Manually retrieve data or adjust voucher numbering and FX rates to tackle deviations.
Archiving
Electronically archive all account statements and access documents later.
Connectivity
Automate data transfers by connecting to ERP systems, treasury management systems, E-banking, or cash management tools.
Companies using Nomentia Bank Account Management
Transforming bank account management on a global scale.





Case study
Bank account management for Schott AG

"This project in cooperation with Nomentia and Deutsche Bank has successfully digitalized an important area of bank account management. We are also convinced that far more is possible. We aim to keep focussing on this and invite all others working in treasury to do as we have done. This is the only way that completely digitalized bank account management can become reality."
Dieter Worf
Head of Treasury, Schott AG
Other solutions you may find interesting
Would you like to see a demo?
There's only so much we can show on this page. Book a demo and ask all your questions!

We'd love to meet you!
Have you explored our solutions and you've found them interesting? We'd love to meet you and show you more!
Hyper modular
Nomentia has a hyper modular approach. Take only the solutions that you need and integrate them into your existing technology stack.
Connect with your banks easily
We help you to connect with over 10 000 banks globally through host-to-host, SWIFT, and local connections.