Liquidity management has been an increasingly important topic for many businesses. In a recent survey with Forrester, more than 80% of the companies indicated that liquidity management is a priority. Yet, a third of the companies also revealed they still struggle to find the capabilities to improve it. For example, 70% of decision-makers' main challenges are creating liquidity reports extempore, especially when collecting data from different systems and stakeholders. Most companies look for liquidity management solutions to solve these issues because they help automate processes by consolidating all liquidity data from various sources. Spreadsheets are just not enough.
Yet, with many available solutions, it can be hard for you and your team to select the right one. Therefore, we have compiled a few aspects to consider when looking for a solution and listed the best liquidity solution providers.
Why do companies use liquidity management solutions?
Manual excel-based processes, several systems, numerous banks, and large teams across different business units make liquidity management inefficient and prone to error. Therefore, most forward-thinking companies use liquidity management software solutions to help consolidate cash flow data from the many systems and streamline liquidity management processes and reporting.
Especially in times of uncertainty and change, it is crucial for treasury and finance teams to make quick decisions based on reliable liquidity analyses. Immediate insight into liquidity positions and forecasts can speed up decision-making and increase business agility. In addition, good solutions enable treasurers to report on company liquidity ad-hoc to any stakeholder internally or externally - think of auditors, shareholders, and company executives.
What defines a good liquidity management solution?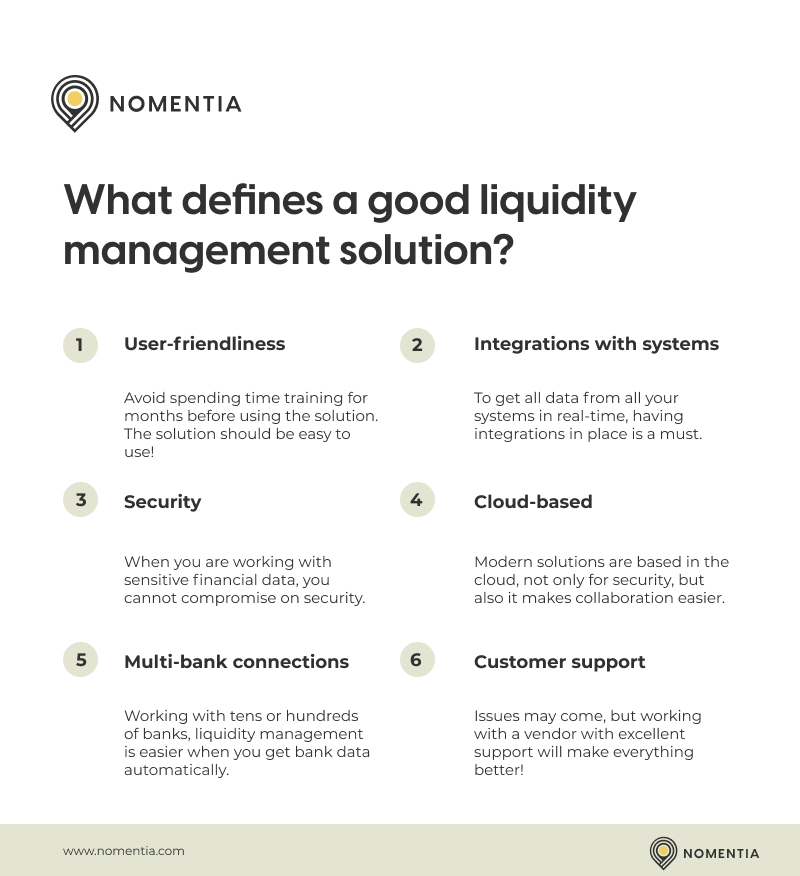 Depending on your business needs, knowing what to look for in all the liquidity management services available on the market can be challenging. However, here are a few aspects that you can consider before moving forward in the conversation with some of the vendors you select.
User-friendliness
How easy is it to use the solution? Will you be able to do everything you need by yourself? Or do you need support all the time? These are essential questions to ask yourself. You want to avoid spending time training for months before using the solution. Most modern liquidity solutions are easy to use, but there are also systems like SAP that can be harder to get used to due to the complexity of the solution. Excellent user experience also helps speed up the onboarding process for new team members using the solution.
Integrations with systems
Some solutions have limited existing system integrations. This can result in lengthy technical projects when you or your software provider need to set up integrations beyond the existing ones. Remember to scrutinize the systems integration possibilities before buying a solution to make sure the solution fits into your existing technology stack. For example, do they connect to your ERP system, banks, or treasury management system? Do you have other payment or financial systems that it needs to connect to?
Security
The security of a solution is essential to mitigate financial fraud or theft and external threats. When consolidating your financial data, you want to ensure it is done in a secure place. Look for solutions that offer safe login practices like SSO and multi-factor authentication and vendors that hold security certifications. Within the solution, it can be helpful to have visibility into user behavior and identify any irregularities, through audit trail, for instance. If you decide to execute transactions from the platform, check if vendors offer payment process controls and sanctions screening against all outgoing payments.
Cloud-based
Today, cloud-based solutions should be the norm for liquidity management. With cloud offerings, the hosting technicalities are mainly outsourced to the vendor regarding updates, setups, and any issues that might occur. Cloud-based platforms are also very safe and cost-efficient and provide excellent scalability when your company grows.
Multi-bank connections
Whether you are using multiple banks and accounts or just one, the solution should be able to connect to all. Beyond creating the integration, you need to ensure that the system can work with the data regardless of the original file format. You can outsource and automate bank connectivity with some vendors and maintain any changes made to existing file formats that are used to communicate between systems and banks.
Customer support
It is good to remember that some solution providers offer support services during the implementation phase or when you have additional requests. Continuous customer service can cost extra money with some providers, so be prepared for additional expenses to your initial investment. This can depend on the SLAs you wish to have with your solution provider.
The best liquidity management software in 2023
Note that the solutions are not presented in any particular order.
Nomentia
ION Group
SAP
Cobase
Kyriba
TIS 
Serrala
Omikron
FIS Global
Finastra
1. Nomentia 
Nomentia is a category leader within Europe, offering its treasury and cash management solutions to over 1,600 customers. Nomentia has offices in Finland, Sweden, Germany, Austria, the UK, and The Netherlands. Their hyper-modular offering allows you to pick only the solutions you need for your operations.
Nomentia's liquidity solution provides instant visibility into all cash positions throughout the entire organization across all regions. It automatically consolidates all cash flow data from different source systems, banks, and ERP systems. Nomentia's liquidity solution enables users to analyze liquidity risk and forecast short- and long-term liquidity positions. The connectivity between the different systems and banks is fully maintained by Nomentia, even when technical changes in connectivity formats occur.
Nomentia's customers are small and medium businesses and large enterprises. Implementation services are an integral part of the onboarding, and customer service is offered by Nomentia too. A recent example of a customer that bought Nomentia Liquidity is Bertel O. Steen, one of Norway's largest service and trading companies. You can read more about the case here.
2. ION group
ION group has offices worldwide and offers seven treasury solutions, including liquidity management. Their products include City financials, IT2, ITS, Openlink, Reval, Treasura, TreasuraSpark, and Wallstreet Suite. Within one of the selected products, you have different modules, and their cash management module helps you manage long- and short-term liquidity positions.
3. SAP
SAP's treasury management solutions are part of a more extensive ERP system. SAP is headquartered in Germany and operates on a global scale. Part of their cash management solution includes liquidity management capabilities. By combining data from different systems, this solution will provide you with a quick status overview of your liquidity position, all within the application. SAP is typically very resource-heavy and requires special technical consultants to implement and maintain.
4. Cobase
Cobase offers a single system with liquidity management capabilities by combining account balances, high-level budgets, and uncommitted and committed transactions. As a result, you can manage balances and fund accounts on time and prevent any operational issues with insufficient funds. Cobase is based in The Netherlands and serves customers internationally.
5. Kyriba
Kyriba is headquartered in The United States and operates globally. Their Cash and Liquidity Management module provides liquidity visibility. According to Kyriba, their solutions help you gain insight into global cash positions across multiple systems and regions. In addition, a dedicated report sums up all data in a worksheet. This allows treasurers to have accurate foundations for forecasts as well.
6. TIS
As part of TIS's more extensive treasury management system, it offers cash & liquidity management solutions as the result of a recent acquisition of Cashforce in the second quarter of 2022. TIS headquarters are in Germany, and they have offices worldwide. Their solution CashOptix provides liquidity management capabilities such as monitoring, analytics, and forecasting by combining different data sources.
7. Serrala
Serrala, with headquarters in Germany, offers their FS² CashLiquidity solution to provide better insights into your company's cash position, including future cash projections. In addition, the solution fully integrates with different systems, giving you a centralized view of all data. Though most treasury platforms have connectivity possibilities with SAP, Serrala is actually certified for SAP integrations.
8. Omikron 
Omikron is a vendor for cash management located in Germany. Their solutions also include liquidity management. Omikron provides convenient liquidity cash pooling functionalities for different currencies connected to banks and other systems. Together with its other cash management functionalities, it facilitates quick decision-making by freeing up essential resources.
9. FIS Global 
FIS Global is an American solution provider that offers their Intraday Liquidity Monitor solution, which provides you with simple intraday, up-to-date views of liquidity across the enterprise. The solution also captures internal or external transactions to calculate global intraday positions and present actual and projected balances by any account or currency.
10. Finastra 
Finastra's headquarters are in the United Kingdom, with several other offices worldwide. Finastra offers a single platform for Cash Management and Liquidity. The functionalities in that platform vary from cash pooling and payables to receivables automation and virtual account management.
Selecting the right liquidity management solution for your company
Deciding which solution is the right for your organization depends on your specific business needs. We recommend that you look at your own requirements first and then contact the vendors that can match those requirements. There is a lot of information available on each vendor's website to see whether a solution looks right for you. 
If you already predict that you will require additional solutions to just liquidity management in the future, it can be wise to examine which other functionalities the vendor offers. This way, you can scale your operations with one solution rather than investing in another solution with a different interface.