In this article, we'll discuss everything you need to know when looking for AP automation software. In short, we'll cover the following:
What is AP automation software?

The benefits of using AP automation software.

Characteristics of a great AP automation software.

A list of the top 8 best AP software on the market.
Practically every organization or company must deal with accounts payable (AP). Depending on the size of the organization and the number of suppliers and vendors they work with, this can range from a few payables per week to hundreds or even thousands a day. The larger AP operations become, the more complex they are to manage. As a result, most companies start looking into AP automation software that can help them scale their AP processes.
What is AP automation software?
AP automation software are digital solutions that help streamline and automate AP processes wherever possible. Examples of AP automation include:
Improving processes related to capturing invoices and bills
Reviewing and verification automation tools

Approvement process improvements

Quicker execution of payments without errors

Automated archiving of paid invoices

Posting paid invoices to general ledgers
The aim of using AP automation software typically is to minimize manual routine tasks, such as data entry or checking invoicing accuracies, and to maximize the time allocated to other valuable practices, such as data analyses, reporting, month-end closing, audits, and more.
The benefits of using AP automation software
You can gain many benefits when using AP automation software. Some of the most significant benefits include the following: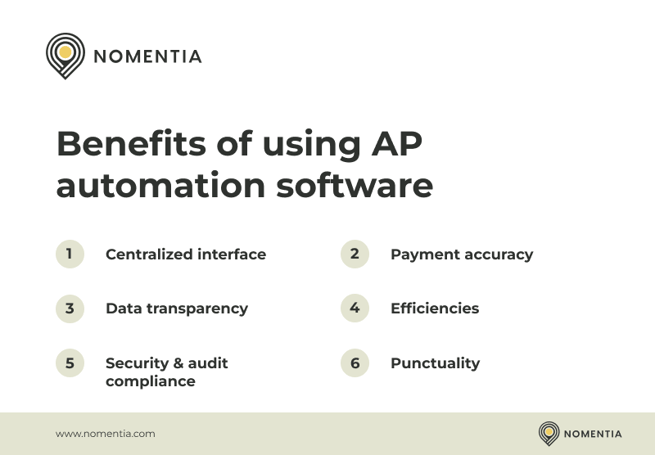 1. A centralized interface
 The centralization of all AP data from different sources, such as banks, ERP systems, accounting software, and more, is one of the greatest benefits of AP automation software. When everything can additionally be actioned from one system, there is no need to log into other systems or banks to review invoices or execute payments. Furthermore, by having one interface that captures all related cash flows to invoices, it also becomes much easier to analyze outflows properly, which can be helpful information for establishing short-term liquidity positions, working capital optimization, and developing cash flow forecasts, to name a few.
2. Payment accuracy
Because automation streamlines certain processes like reconciliation and executing payments, there is less room for human errors or fraud. If discrepancies do occur, software will automatically flag this and notify you to examine the cases more closely. As a result, you don't have to review the accuracy of each invoice and payment but rather those flagged by the software.
3. Data transparency
AP software keeps track of all data related to invoices and payments. For example, you can easily view when invoices are captured, who is taking care of them, their status, and who executed the payments. Hence, the need to communicate about each invoice with different stakeholders internally becomes much lower because information can easily be looked up in the system.
4. Efficiencies
All steps in the AP process can be automated to some extent. For example, capturing invoices through bank or ERP connectivity, executing payments in batching through reconciliation, and automatically posting paid invoices to general ledgers are some ways to automate the process. In our article on AP automation, we wrote a more detailed approach to automating your AP processes.
5. Security and audit compliance
Most AP automation software improve security and compliance. For example, outgoing payments can be automatically screened against sanctions lists to avoid payments from being delivered to sanctioned parties. Other functionalities, especially beneficial with larger payment sums, are four- to six-eye principles, where several people are required to review a payment before it is executed. In addition, by having audit trails in place and automating archiving, paid invoices or bills can be retrieved and scrutinized for compliance purposes whenever necessary.
6. Punctuality
When all invoices and bills are shown in a single software together with due dates, it becomes a lot easier to get a glance of what needs to be paid by when. This also helps increase the punctuality of paying vendors and suppliers since no invoice or bill is overlooked due to scattered data, systems, or processes.
Characteristics of a great AP automation software
Selecting the right AP automation software with various vendors on the market can be challenging. It's important that the software suits your team's requirements and can easily be integrated into your existing technology stack. When comparing vendors, make sure that the software has at least some of the following characteristics: 


A solution should be able to capture invoices and bills automatically and digitally in a central place regardless of the channels and systems they come through.

Most software enables automated reconciliation of transactions with open payment items or statements. That way, the reviewing and verification process can become much faster, and only unmatched invoices or bills require closer examination rather than going through each invoice individually.

You need to be able to set up safe processes such as four- to six-eye principles when approving payments or certain filters that block duplicate payments, sanctioned counterparties, or erroneous payments.

Within the solution you need to be able to process all types of payments in different file formats.
Software should enable batch processing of payments for maximum efficiency but also provide the flexibility to execute manual payments when necessary.

Some solutions may provide automated posting of paid invoices to the ledgers. If this is a requirement, make sure to check whether your preferred vendors can do this.

Another functionality that is sometimes considered necessary is archiving paid invoices, which some software providers will allow you to do.
Top 8 best AP automation software solutions 
With several AP automation software vendors available on the market, it can take time to find the right one. Therefore, we have shortlisted some of our favorite vendors here: 
Note that they are not listed in any particular order. 
Nomentia 

Basware 

Medius 

Stampli 

Bill 

Tipalti 

Oracle NetSuite 

Sage Intacct 
1.
Nomentia
Nomentia is a trusted AP automation vendor from Finland with offices all over Europe. Nomentia has been offering payment services for over 30 years. Unlike many other AP automation solutions, the company provides additional cash and treasury management solutions such as risk management, cash flow forecasting, liquidity management, trade finance, bank account management, POBO and COBO, treasury workflow automation, and treasury reporting. Nomentia is an excellent option if you plan to use other solutions to complement AP automation.
With Nomentia Payments, you can capture any type of statement or invoice and automatically reconcile them with payments – while it's ideal for account payable automation, it goes well beyond AP requirements. The software also allows you to make other types of payments, such as treasury-related payments or payroll payments, to name a few. Nomentia Payments is suitable for companies of any size, whether it's simply just to manage AP payments better or if you need an extensive global payment factory.
Nomentia connects to all your systems, such as ERPs, accounting software, and TMSes, and offers bank connectivity for over 10 000 banks. In addition, all AP data can be archived and analyzed with Nomentia, and the data is even used for developing short-term cash flow forecasts and liquidity management.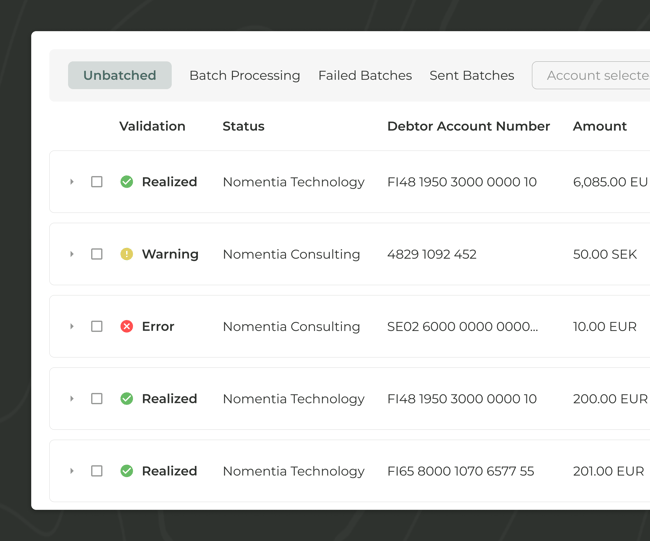 2. 
Basware
Basware offers solutions for AP automation, e-invoicing, and procure-to-pay. Basware is also headquartered in Finland and has offices internationally.
Basware collects all invoices digitally and matches them with payables. The software also detects recurring payments and offers automation for them. With Basware Insights, you can further analyze AP performance and set target KPIs for suppliers and your organization.


Source: basware.com
3. 
Medius
Medius is a company that originates from Sweden and offers business spend management solutions. More specifically, they cover solutions for AP automation, procurement, contract management, and supplier management.
Medius also tackles the bottlenecks related to accounts payable. They allow you to capture invoices in one place, match them with payables, and resolve discrepancies. In addition, the software integrates with various ERP systems.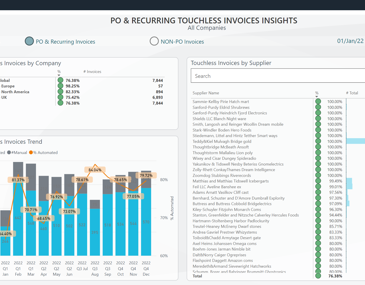 Source: medius.com
4.
Stampli
Stampli is a US-based AP automation software provider that offers solutions for AP, company card purchases, and B2B payments. Stampli streamlines payable processes by integrating them with ERPs or accounting systems.
Through Stampli's software, you can centralize accounts payable communication, documentation, corporate credit cards, and ACH or cheque payments, and it also allows expense management. It is also possible to communicate with different stakeholders through the platform, which helps speed up payment approval times, for example. AI helps further increase automation by enabling duplicate identification, sending approval notifications and analyzing other patterns.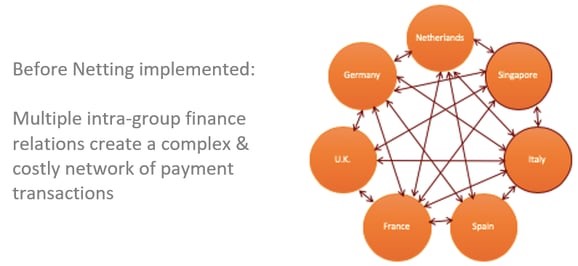 Source: stampli.com
5.
Bill
Bill is a US-based company that offers solutions for accounts payable for approving, paying, and syncing bills and accounts receivable to send invoices and speed up owed payments. The company also deals with credit and expense management. Bill's solutions primarily target smaller and midsized companies.
Bill's AP software allows different types of payments, such as ACH, international payments, card payments, and network payments. They also offer solutions for approving invoices, enabling payment control, and managing account receivables and expenses.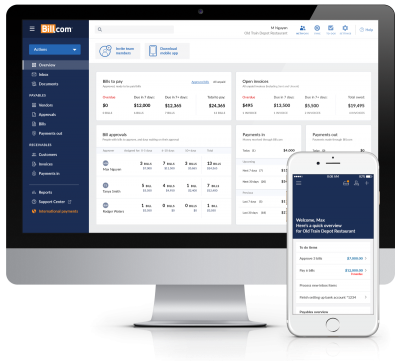 Source: bill.com
6.
Tipalti
Tipalti is a North American accounting software provider that solves accounts payable, procurement, invoicing, and purchase order management challenges. Tipalti tackles these topics through cloud-based solutions.
Tipalti's software is designed to help companies capture invoices and automate approval processes, match PO, send global payments, pay on behalf of, manage payment currency exchange rates, reconciliation, and manage financial controls.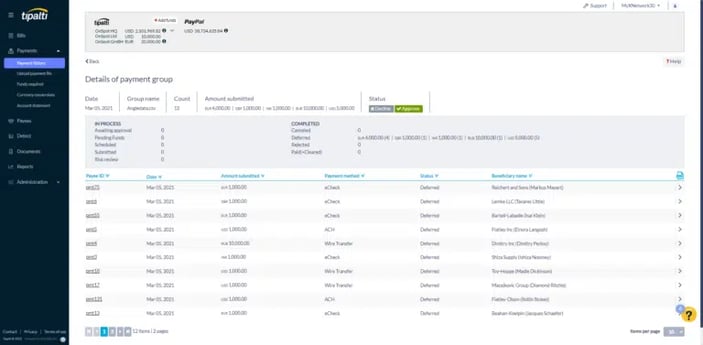 Source: tipalti.com
7. Oracle NetSuite 
NetSuite has its headquarters in the US and offers various solutions, from an ERP to CRM systems to an accounting module. Their accounting module includes functionalities to automate processes like accounts payable processes, receivables management, and close management.
With the help of Oracle's software, you can automate reviews, approvals, and payments of supplier invoices. The solution also offers functionalities for payment reconciliation and provides real-time insight into AP information.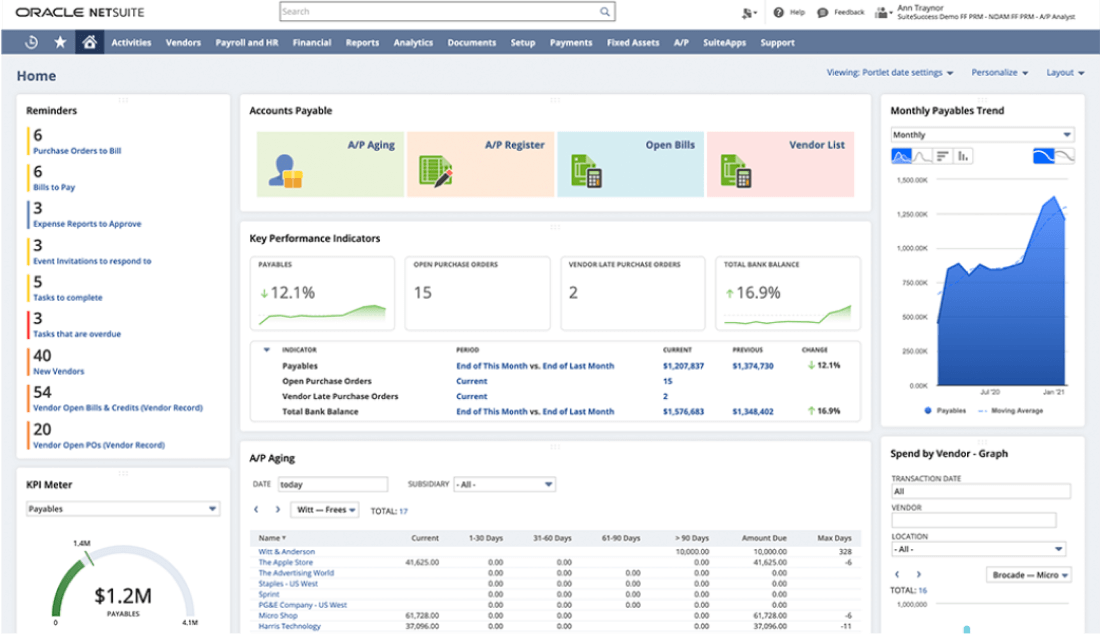 Source: Oracle NetSuite
8. Sage Intacct 
Sage is a UK-based company that offers solutions for small and medium businesses, including ERP software, HR software, and supply chain management. In addition, their accounting software helps you reduce manual tasks related to accounts payable processes.
The software, more specifically, keeps you up to date on due payments and shows you what you owe to suppliers at any point in time. By using workflows, you can also automate processes as much as possible. In addition, you can keep track of your account balances from multiple accounts and consolidate multiple entities and currencies through the ledger.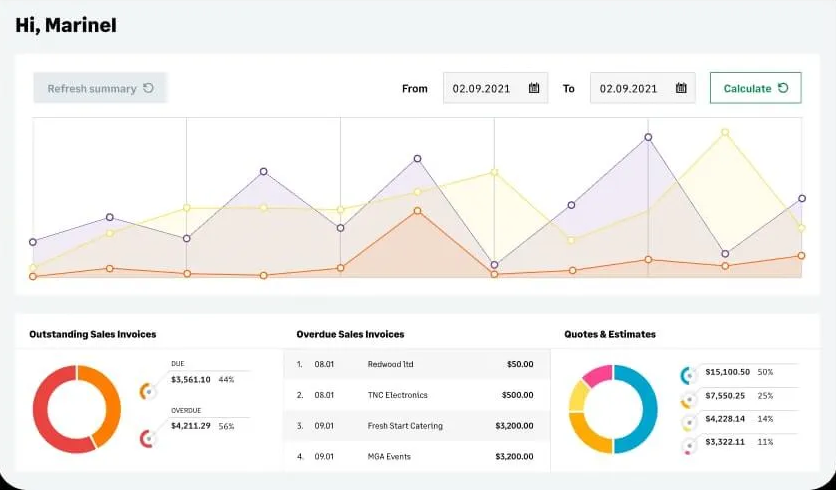 Source: sage.com
How do you choose the right AP automation software?
The process of selecting AP automation software varies among companies. The key to selecting the right vendor is to analyze your current processes and requirements for improving them and see which software can help you do so the best.
Another aspect to consider is how scalable a solution is as you grow - a solution might seem ideal at your current stage, but suppose your operations expand with an increasing number of invoices, bank accounts, ERP systems, or other systems - will the solution still be suitable? Or does it become too expensive? From our experience with over 1400 clients, most companies also prefer to have their data and tasks centralized in one system and add other functionalities such as FX risk management, cash flow forecasting, and liquidity management to the same system as it provides much higher efficiency and transparency.