Customer story
Andritz
A global leading supplier in providing plants, systems, equipment, and services for various industries

Year founded
1852
Industry
Machinery manufacturing
About
ANDRITZ is a global leading supplier in providing plants, systems, equipment, and services for various industries, such as hydropower stations, the pulp and paper industry, the metalworking and steel industry in the municipal and industrial segments.
Andritz is headquartered in Graz, Austria with approximately 27.900 employees and more than 280 locations in over 40 countries worldwide and supports its customers in achieving corporate and sustainability goals. 
Challenge
ANDRITZ has recorded more than 5,000 projects in SAP. In the past, project-related inflows were merely shown as an aggregate figure in the group's cash flow forecast managed in Nomentia. This made it difficult to get to the bottom of plan vs. actual deviations which can be very significant. To resolve the problem, ANDRITZ needed a lightweight solution that allows global entities to swiftly update their projects so that the head office can more easily identify the underlying cause of deviations.
Solution
In Nomentia, ANDRITZ automatically consolidates SAP-data on planned and actual cash inflows resulting from the groups' largest projects. These projects with planned inflows of EUR 5 million or more are imported to Nomentia including relevant details such as project name and customer. During the implementation, Nomentia supplemented the pre-existing planning grid to include the individual projects and since the import automatically assigns projects to the correct users, and automatically closes these at the end of the project, each entity only has access to relevant data. In addition, users can adjust and comment on forecast values before they are automatically reflected in the central reporting on group level.
Besides cash flow forecasting, ANDRITZ uses a wide variety of Nomentia solutions for cash visibility, trade finance and related reporting.
The benefits
As ANDRITZ is tracking approximately 5.000 projects in SAP and it is common for payment dates to shift throughout a project's lifetime, it is essential for Group Treasury to have visibility into planned and actual cash flows on project-level. Something that was not the case prior to extending Nomentia Cash Flow Forecasting and Nomentia Reporting.

Fig. 1 | Dataflow from SAP to Nomentia Cash Flow Forecasting
After the implementation, ANDRITZ now profits from the following benefits:
Automated data imports from SAP


Nomentia automatically imports all project data, including actual and planned cash flows, from ANDRITZ's ERP system SAP. Users can adjust the project data and comment on information as needed to ensure that local and central users stay on top of what is going on in each project.




Automatically creating and terminating projects


Based on the source data from SAP, the Nomentia solution automatically creates new projects, assigns them to the responsible user(s) and closes them once projects are completed. By automating the process it is ensured that all users only see information that is relevant to their work.

Highlighting of deviations to project managers


By means of automated plausibility checks, the Nomentia Cash Flow Forecasting and Reporting solutions ensure that the users of the responsible entity are aware of unusual deviations (e.g. relative to the previous submission) before they submit their forecast. This allows them to either correct their forecast or comment on the deviations. The result: a greatly reduced need for follow-up questions from the Group Treasury.

Instant forecast reports and deviation analyses


Group-treasury- and entity-users alike can access reports and deviation analyses directly in Nomentia. Using the Nomentia Data Cube enables Group Treasury to independently create further ad-hoc analyses as required, eliminating the need for support by external consultants.
"Due to the size of our orders, developments at project level are crucial for corporate planning. The new level of detail in Nomentia allows us to maintain an overview, despite the many individual projects, and find the underlying cause of all deviations immediately"

Stefan Schantl, Head of Investor Relations at ANDRITZ AG.
Reports that ANDRITZ has created using Nomentia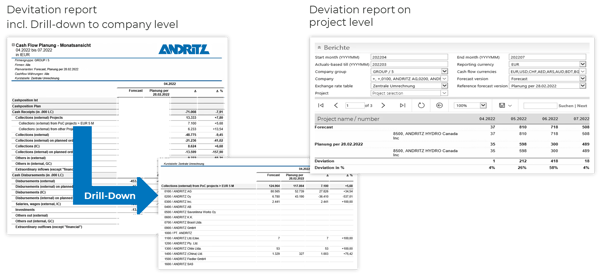 Fig. 2 | Examples of a deviation report
Andritz makes extensive use of Nomentia's Self-Service Reporting features and has created the following report set completely independently without the help of a consultant:
FINANCIAL STATUS REPORTS:
By instrument types

By entities

Plan vs. Actual deviations

Securities
LIQUIDITY REPORTS:
Net liquidity by entities

Net liquidity company group detail

Gross liquidity by currencies

Net liquidity chart
LIMITS AND CREDIT FACILITIES REPORTS
Total bank exposure

Bank balances

Facilities and details

Detail loans
FORECAST REPORTS
Overview and details

Deviation analysis

Confirmation overview
GUARANTEES
Guarantee types

Counterparties and principal debtors

Facility utilization and development
AGEING
Overdue receivables on division level

Development over time

Detailed analysis including action planning
DERIVATIVES
Overview and administration
Database for hedge accounting
Improved treasury management starts with Nomentia
Would you like to discover how we can assist your treasury team?