Cash management is a central part of all companies to ensure financial stability. Therefore, it is not surprising that the cash management system market is steadily growing. According to market analysis by Grand View Research, the market expects to register a CAGR of 12.6% from 2020 to 2027.
If you have not already implemented a cash management system, it is time to do it now. A cash management system is a key to business success. It helps you, for example, to solve challenges with payments, liquidity management, bank account management, and reconciliation. The need for automated cloud-based solutions is increasing, and the market is full of different options for handling corporate cash management on a global level. In this blog, we will guide you through finding the best, most popular cash management services for 2023.
Why should you have a cash management tool?
With a cash management software in hand, you can centralize and automate payments and cash management across multiple company branches and manage the process more efficiently. A cash management software can also help strengthen your cash position since you get better visibility of your cash and real-time visibility into your bank accounts with the data collected and easily accessible. Manual work involves unnecessary risk of errors and safety issues that you can avoid. Besides, you can save time and reduce overall costs through automation and centralization.
These are just a few reasons companies should use a cash management tool. If you want to learn more, you should read this blog about the requirements for effective cash management.
What makes a great cash management software?
There are plenty of different solutions for cash management on the market, and it can be challenging to know what to look for when searching for a provider. A hyper-modular approach can be beneficial since it enables you to only choose the solutions you are missing and integrate these with your existing technology stack. However, the right option for you depends on your specific business needs, but to help you, we have listed a few things we believe are essential for a great cash management software:
Ease of use
The system should help you reduce manual work and improve your processes. The system should have a user-friendly interface that you can easily understand and utilize according to your business needs without months of training.

Security
Security is essential to prevent fraud and financial theft, both internally and externally. Look for secure sign-on and multi-factor authentication for accessing the system. Central visibility and a full audit trail of all user behavior and payment activities across the company branches are also important. Furthermore, automatic control of processes within the system can help you reduce the risk of fraud, for example, with functions like anomaly detection and sanction screening. Learn more about fraud detection and prevention here.
Cloud service
Complete outsourced cloud services that can integrate with your existing technology stack are the future. Cloud-based solutions provide powerful and cost-efficient functionalities as well as the security of the cloud. It also promotes flexibility and scalability to manage operating cash flow in the best way possible.
Multi-bank connectivity
Bank connectivity to each of your banks enables you to import data automatically to your systems and smoothly manage payments. With multi-bank connectivity, you can also automate the management of bank and ERP connections, conversions, and format changes. Look into if the provider offers bank connectivity via SWIFT, host-to-host, and regional connectivity, and make sure that you can reach all your banks.
System integration
Can the cash management system integrate with your ERP system(s), treasury management system (TMS), and your other financial systems? Integration with your existing systems is vital so that you can automate your payments and get access to all necessary data, for example, for cash flow forecasting.
Ongoing support
Besides evaluating the functions of the software, you should also investigate what support the provider offers. Ensure that your treasury department will have access to support, not only during the implementation process but also in the future when users have questions and requests.
The best cash management software 2023
Note that the software providers are not presented in a particular order.
Nomentia
SAP Cash Management
Bottomline Technologies
Kyriba
TIS
Coupa
Serrala
Cashforce
CashAnalytics
FIS
1. Nomentia
Nomentia is a category leader within European treasury and cash management solutions. Nomentia has its roots in Finland and operates in the Nordics, Benelux, and DACH. Over the last decades, Nomentia has evolved through carefully selected mergers and partnerships. In 2021 Nomentia acquired TIPCO Treasury & Technology GmbH, a well-established brand in the DACH region and provider of the award-winning Treasury Information Platform TIP.
Recently, Nomentia also announced partnerships with Microsoft, Iwow, and Medius to extend global payment and cash management capabilities, maximize the efficiency of implementation projects, and make the solution easily accessible in Microsoft Azure.
The Nomentia cash management SaaS software is hyper modular and flexible and includes solutions for payments, bank account management, matching, liquidity, bank connectivity, in-house bank, anomaly detection, and sanction screening.

Learn more about Nomentia cash management >>
2. SAP Cash Management S/4HANA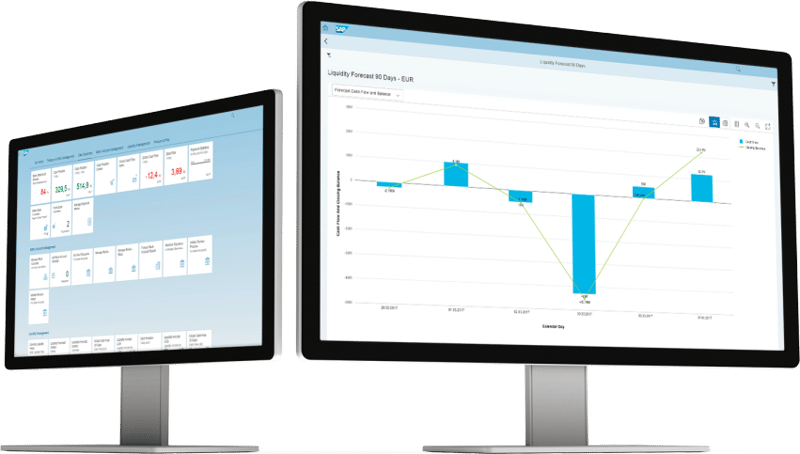 Source: https://www.sap.com/sweden/products/cash-management.html
SAP is a German software corporation developing enterprise software. The company is especially known for its ERP software and is considered the world's largest in the industry. SAP has built an integrated treasury and cash management solution on the S/4HANA Platform, the company's ERP platform for enterprises.
The three major areas of SAP Cash Management are bank account management (BAM), cash operations, and liquidity management.

Learn more about SAP cash management >>
3. Bottomline Technologies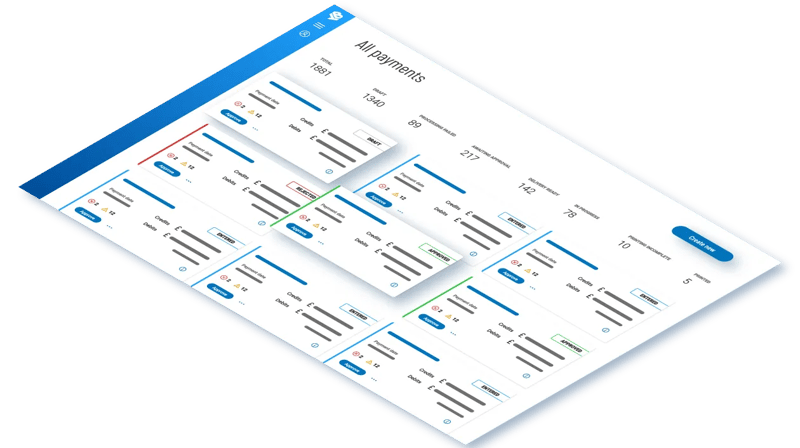 Source: https://www.bottomline.com/uk/solutions/ptx
With headquarters in Portsmouth, the US, Bottomline Technologies provides solutions to customers across Europe, the US, and Asia-Pacific. The company offers cash management solutions to corporations and banks for domestic and international payments, cash management, automated workflows for payment processing and bill review, fraud detection, behavioral analytics, and regulatory compliance solutions. Bottomline Technologies' cash management software centralizes your payments and cash lifecycle management with real-time visibility and multi-bank connectivity.

Learn more about Bottomline Technologies cash management >>
4. Kyriba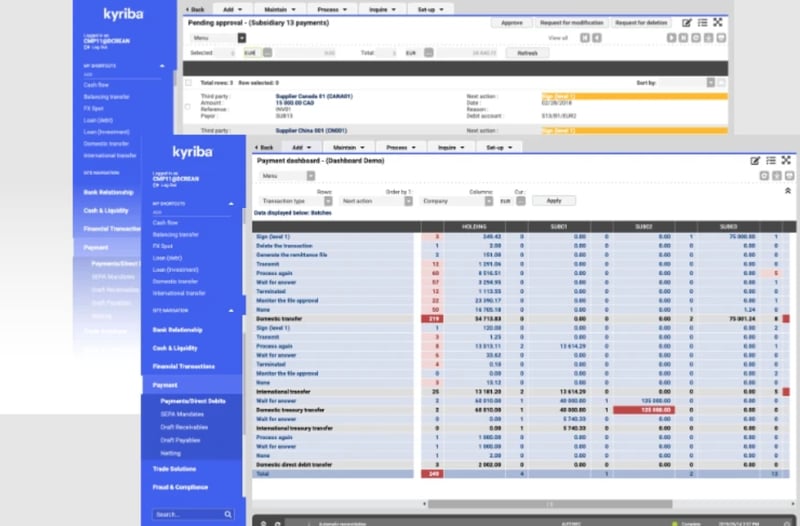 Source: https://www.kyriba.com/
Kyriba provides cloud treasury and finance solutions and has its headquarters in San Diego, with offices in multiple locations in the US, Europe, and the Asia Pacific. The main capabilities of Kyriba's cash management software are cash positioning, cash forecasting, reconciliation, in-house banking, generating journal entries for bank transactions, posting transactions to the general ledger, and reconcilement of bank transactions to accounting entries.

Learn more about Kyriba cash management >>
5. TIS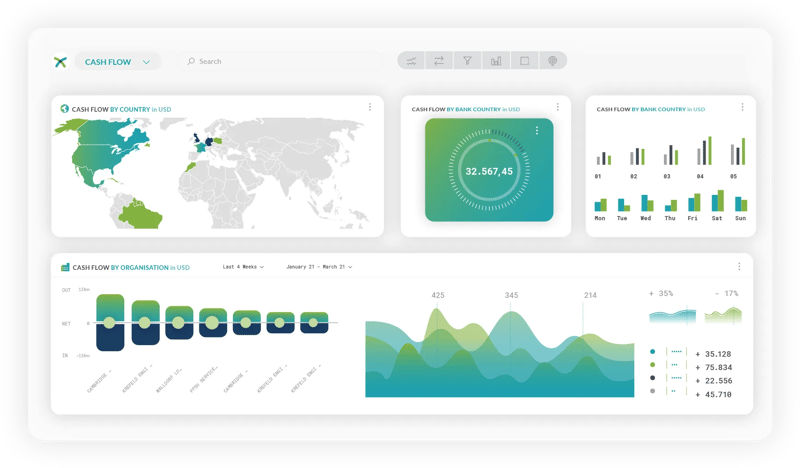 Source: https://tispayments.com/resources-archive/knowledge-hub/
Founded in Walldorf, Germany, TIS launched its first product, Bank Account Manager in 2010. Since then, the company has combined treasury management with cloud architecture and bank connectivity to deliver solutions for the optimization of outbound payment processes. Today, some of the solutions covered in the TIS payments platform are global payments, cash management with real-time visibility of liquidity and cash flow, bank account management, and bank connectivity.

Learn more about TIS cash management >>
6. Coupa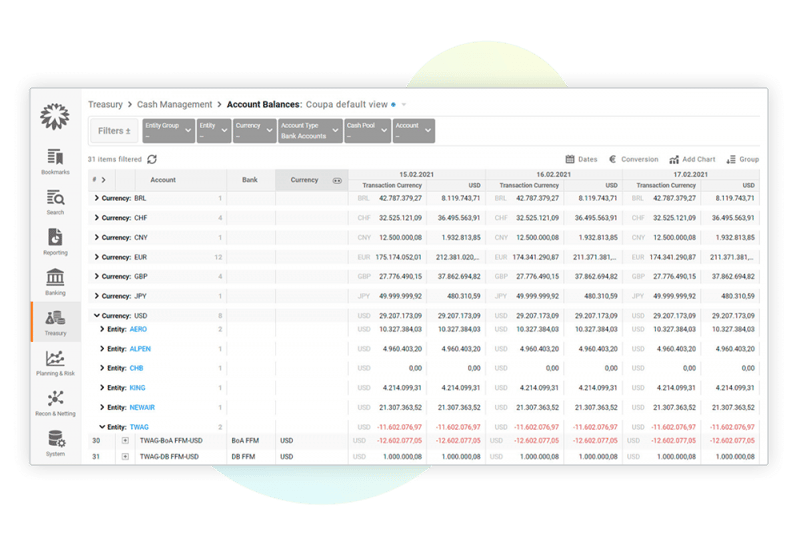 Source: https://www.coupa.com/solutions/unlock-liquidity-and-streamline-payments
Coupa provides cloud-based software for business spend management. The company was founded in 2006 and is has its headquarters in California, with offices across Europe, Latin America, and the Asia Pacific. Coupa helps companies gain visibility and control over money and resources and manage transactions across procurement, payment, and supply chain.
Learn more about Coupa cash management >>
7. Serrala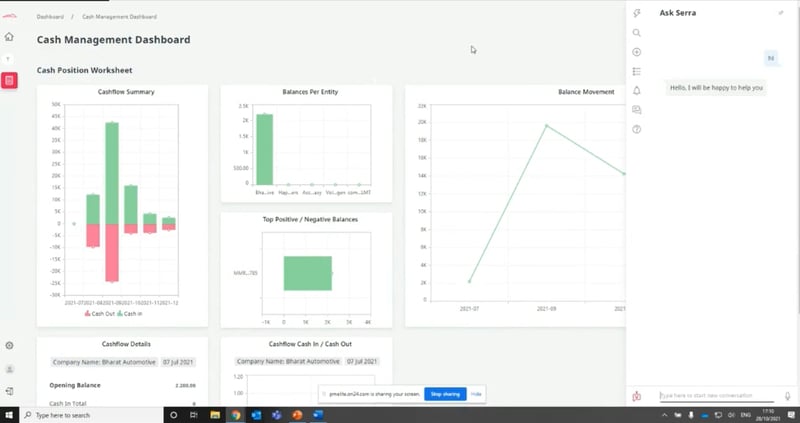 Source: https://treasury360.net/treasury-news/system-demos/tackle-the-transparency-issue/
Serrala is a global financial automation and B2B payments software company with offices in North America, Europe, Asia, and the Middle East. Serrala's product portfolio includes AP automation, cash application, cash management, forecasting, payments, collections and disputes, credit and risk management, data and document management, and electronic bill presentment and payment.

Learn more about Serrala cash management >>
8. Cashforce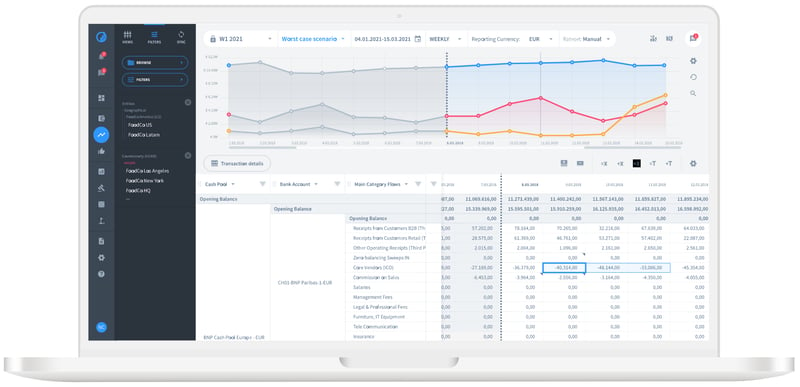 Source: https://www.cashforce.com/
Headquartered in Antwerp, Belgium, Cashforce provides a cash forecasting & working capital platform focused on automation and integration. From offices in Europe and the US, Cashforce helps finance and treasury departments to save time and money through solutions for cash flow forecasting, treasury reporting, and automation.

Learn more about Cashforce's cash management solutions >>
9. CashAnalytics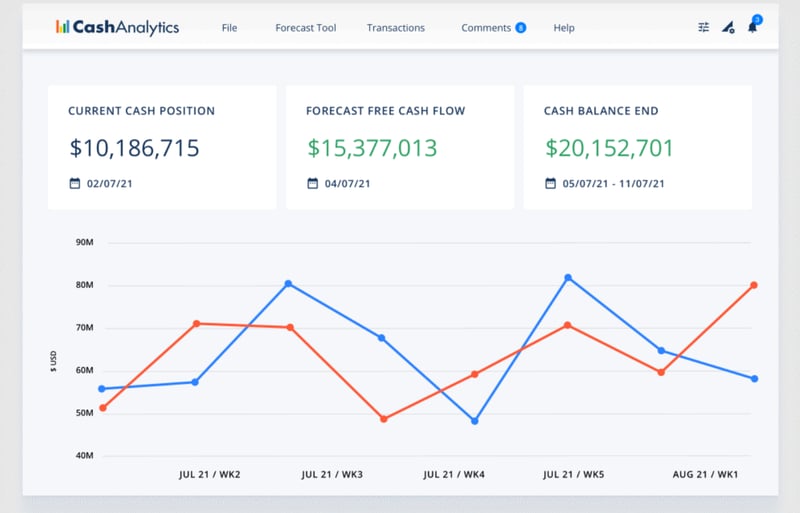 Source: https://www.cashanalytics.com/
CashAnalytics was founded in 2012 to change how companies analyze, forecast, and manage cash flow daily. The company has its headquarters in Dublin, Ireland, and has an office in Boston, the US. CashAnalytics is a tool for cash forecasting and liquidity planning that can help you get clear visibility of current and future cash and liquidity across all businesses. CashAnalytics provide tools for cash forecasting, banking, liquidity, and working capital.

Learn more about CashAnalytics cash management >>
10. FIS
Headquartered in Jacksonville, Florida, FIS has provided a range of financial products and services since 1968. The company is most known for developing financial technology and offers solutions in three main areas, merchant solutions, banking solutions, and capital market solutions. The product portfolio includes solutions, for example, for payments, banking, trading, and risk. Among other things, FIS offers a SaaS-based payments platform, RealNet, helping businesses with real-time payments to anyone, anywhere in the world, and making cash flow faster for organizations.

Learn more about FIS cash management >>
Selecting the right solution to improve your cash management
As mentioned before, what solution is suitable for you depends on your specific business needs. To find the appropriate solution for managing your cash, you should identify what you require from the solution. The next step would be to contact different providers that meet your requirements to evaluate what the ultimate solution is for you to take your cash management to the next level.