We are delighted to share a significant milestone in Nomentia's journey – all Nomentia solutions are now seamlessly accessible from a unified platform. Since the merger of Nomentia and TIPCO in the fall of 2021, the company has continuously expanded its offerings, empowering treasury and finance professionals to excel in their roles.
Over the past two years, Nomentia has successfully executed numerous client projects while simultaneously working towards its overarching vision of consolidating our cash and treasury management solutions into a unified hub.
We've named this integration project 'OneNomentia' internally, and from this article, you will learn what 'OneNomentia' is and how you will benefit from this massive update.
"Merely two years ago, TIPCO merged with Nomentia, marking the start of an exciting new chapter. This was the beginning of a transformative journey: we recognized that to cater to treasurers' diverse needs, we must consolidate our solutions under a unified platform. Whether the client needs a comprehensive treasury management system (TMS) or specific functionalities like payments, loan management or guarantees, we can now meet all requirements better with one platform" elaborated Hubert Rappold, Chief Sales Officer at Nomentia and former co-CEO at TIPCO.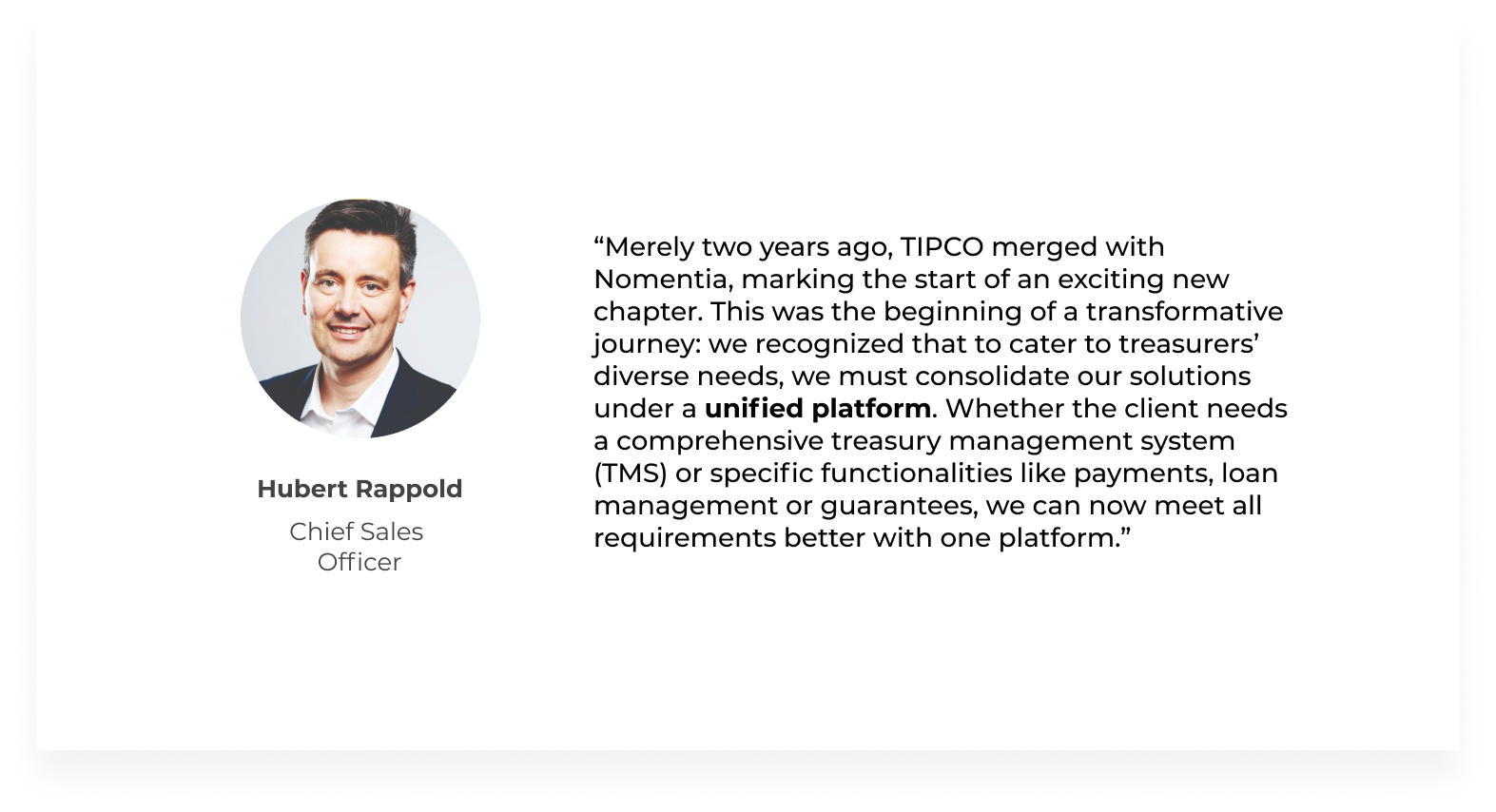 Why

did we

consolidate

our solutions into one platform

?
Historically, we maintained two robust yet independent solutions – one for Cash Management and another for Treasury Management. Both came with various modules that could be tailored to individual requirements.
Many clients have also shown substantial interest in implementing modules from the other platform they haven't yet been using, however, using two platforms seemed inconvenient for users.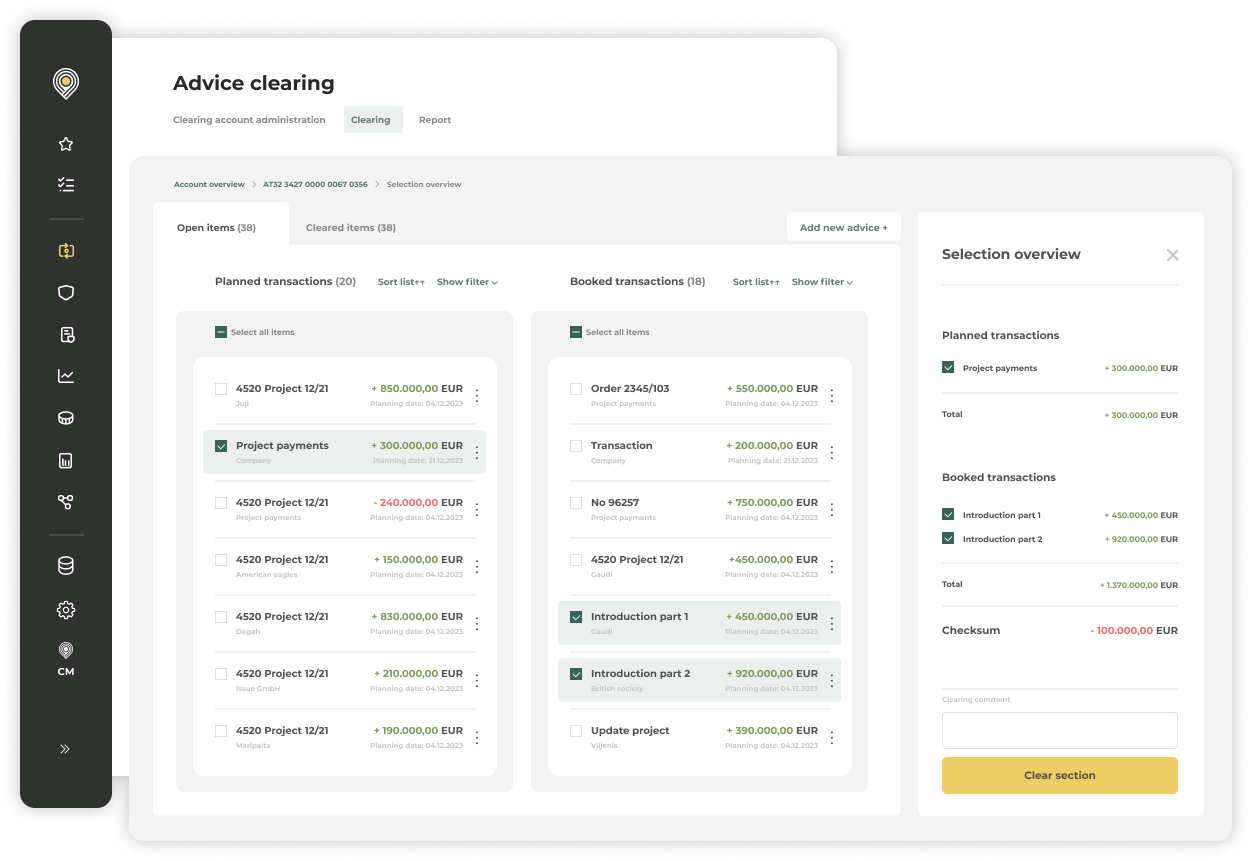 Transitioning to a single solution empowers us to roll out exciting enhancements consistently and ensures all our clients can reap the benefits of our continuous development.
"What continues to motivate me and the team is our commitment to attentively listen to our clients and develop meaningful enhancements for them. Consolidating all Nomentia solutions onto a single platform is a major milestone in realizing our vision of becoming the number one treasury management solution" explains Jukka Sallinen, Chief Executive Officer at Nomentia.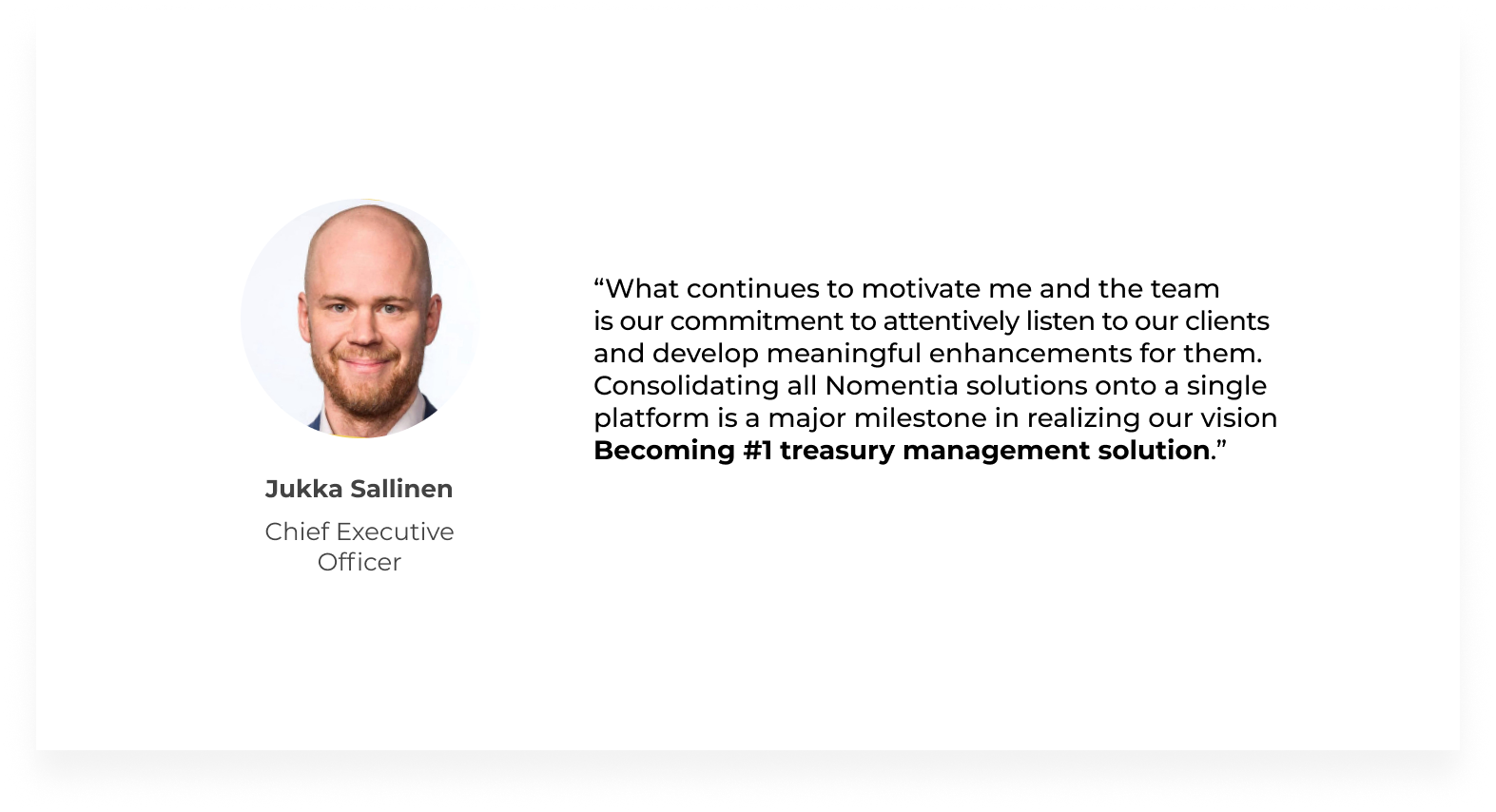 What

are the benefits of the unified platform for you?
As we celebrate this achievement, you might wonder, "What does this mean for me?" Here are the six main benefits:
All-in-One Convenience: All your treasury and cash management requirements can now be met using Nomentia solutions.
Seamless Transition: If you have been using Nomentia Cash Management or Nomentia Treasury Management, taking modules from the other solution into use is more straightforward from now on as you can easily switch between the modules.

Enhanced User Experience: While consolidating the two solutions, we have made substantial UI/UX improvements for an elevated user experience and ease of use.
Our Modular Approach Remains Intact: Our philosophy remains unaltered – implement the modules per your specific needs, whether one module or the entire suite.

Scalable Growth: You can implement new solutions and add-ons at your own pace, such as new bank connections, ERP integrations, payment process controls, and more, to align with your roadmap.
Accelerated Innovations: The enhanced Nomentia platform paves the way for delivering more innovation faster which enables you to keep up with the ever-changing challenges of treasury and cash management.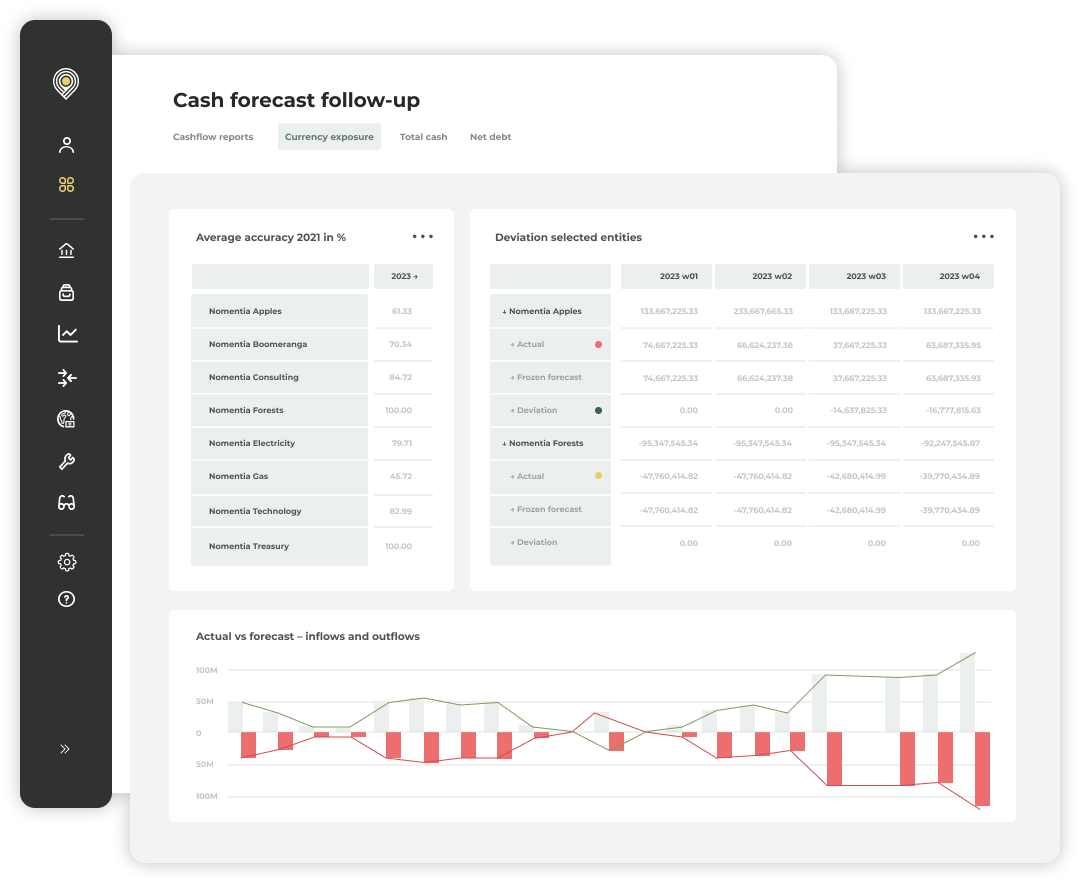 Exploring

Nomentia's

Diverse

Portfolio
This article wouldn't be complete without the full list of the solutions. Available to you.
Payments

Bank Account Management
Liquidity Management

Reconciliation

In-house bank

Bank connectivity as a service

Cash Flow Forecasting

Cash Visibility

Guarantee Management

Treasury Reporting

Treasury Workflows

FX Risk Management

Embark on a New Journey with

Nomentia
We have brought some of the most practical and robust cash and treasury management solutions into one platform. Beyond helping your day-to-day tasks, the solutions will also aid in developing a more strategic treasury that relies on data and insights.
We can promise you already: this is just a start, and more exciting updates are coming in the future.
Now it is your turn to check out the new Nomentia!
Watch our webinar!
Watch the recordings of our Live Webinar introducing this achievement!