Recently I had a discussion with our marketing team that made me think about the topic for this blog post. At the end of the year, we typically send out an email with interesting content to check out during the holidays. And our marketing team had created an email with topics around cash management that went out to our treasury contacts. But does this targeting mean that an important target group is missing out on our content around cash management?
Finance is an important stakeholder for cash and I personally believe that in the future treasury and finance will work even closer together to find the ultimate cash management solutions that create added value for both functions.

Essentially, no treasury function is an island. Let's look at one of the key tasks for any treasurer: it's to control their global cash flows and maintain visibility over cash positions. But in reality, many companies have several disperse units that make payments, welcome to your finance and accounting team. Finance has a key role in the payments process and I really hope they will become a treasurer's best friend in 2020 to ensure that companies go on a thoroughly successful centralization journey. In my opinion treasury centralization alone is a thing of the last decade (yes, I have been waiting to say this until January 2020, otherwise this blog would have been published earlier) and it's time we look specifically at cash management centralization and the tools that are truly gluing together finance and treasury, all with a blessing from IT of course.

The business case for Treasurers is mostly around "cost-efficient risk mitigation" and business agility, e.g. the visibility and control on cash. By including Finance and increasing the efficiency of payments and reconciliation the centralization journey has higher direct cost savings and thus higher priority in the investment backlog.
Cash Management benefits Finance
Cash management solutions are typically built on automation, which leads to freeing up time for value-creating work. After all, in the end, we all want to do more with less. I know what comes to your mind, it's all just about getting rid of people and automating all the work, right? Wrong! Or at least that's not really the full story. I sincerely mean it when I say it's about working smarter. Imagine being a shared service center, working with different subsidiaries that all have their separate processes. A clear nightmare that keeps up a lot of valuable resources that can be used for more impactful work.

While centralization comes with a loss of control it also comes with clear benefits for finance.


Single process and single tool. This is especially true if you are working with shared service centers that might cater to different local entities, in the worst case all with their own tools and processes. Just think about the time and money you save if everyone uses one process and tool to view and manage all the information on payments, internal and external balances, open receivables, and matching with account statement entries and forecasted cash flows in and out.
Single process and the single tool allow you to further develop your financial processes in a concise and efficient way.
Finding and keeping your talent motivated. It is often hard to find experts in the markets. Automation is a key for reducing the need for repetitive tasks and doing more with the existing experts. The centralization and development can even create a positive spiral since experts are more eager to join a company where they can focus on higher value-creating work.
Automated controls shorten the lead times since Finance can work freely under the set policies. Topics like approval workflows and preventing payment fraud are built-in the solution: there is no need for running a sub-optimal process e.g. following up the transactions in email, phone, or online chats.

Now that we got the benefits covered, it's time to look at the how. How can we make sure cash management centralization becomes a joint journey? I think essentially there are five tips.
5 tips to get finance onboard

Make sure to hire great talent to take your AP and AR teams forward. One way to attract talent is by making sure your processes are from this decade. And yes, that's the 20s.
Increase market value by providing more value to an organization by controlling automation.
Free up time for value-creating work through smart automation. Because after all, you don't want to have the talents you hire spend their time manually matching payments.
Get someone from finance and accounting involved early on in the process. Co-operate and find business cases. After all, you are not just improving treasury processes but finance and accounting processes controlled by treasury with finance at the driver's seat (because you did involve them). Treasury can do their policy and doesn't need to ask finance stupid questions.
What's the verdict?
Let's recap. The most common starting point for cash management centralization endeavors is that the treasury wants to have control and visibility on Cash. And treasury needs to make an investment proposal and justify the decision with a business case. It is often vital to getting the buy-in from finance and accounting to improve the business case and thus have higher priority for the centralization journey. Treasury can make a business case along with the support of top management, but if finance says they want to focus on other priorities, treasury typically has a difficult time justifying the needed effort from Finance. In other words, everyone involved from the treasury to finance needs to understand the added value of fixing existing processes and centralizing cash management.

Hopefully, you want to be relevant in 5 years and then you need to learn new ways of doing things. The future is not about manual work. It's about controlling automation. This is why it's important to get your finance and treasury team to take the first steps on a joint centralization journey.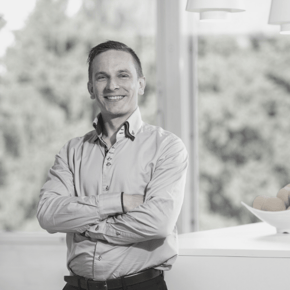 Marc Josefsson
Marc combines his background in technology and business to help our customers make the most out of their solutions. He is passionate about creating powerful partner ecosystems that create benefits for everyone involved, while he is never afraid to think outside the box to find a creative solution.